Preliminary Outlook for 2015
● Gold production in 2015 is expected to be between 470,000 and 520,000 ounces, or 14.6 and 16.2 tonnes.
● 2015 total capital expenditures, excluding capitalized stripping, are forecast to be $75 million.
● Growth capital investment for 2015 is forecast at $26 million.
● Capitalized stripping costs in the Central Pit are expected to be approximately $185 million.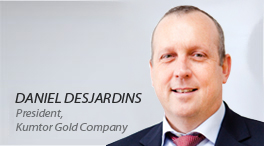 Effective January 20, 2015, Daniel Desjardins is appointed as KGC President to replace Michael Fischer.
Daniel Desjardins has a Bachelor of Commerce (Financial Accounting) from Mount Allison University in Canada, a Master of Science (mineral economics) and an MBA from Curtin University of Technology in Australia, and is a Chartered Public Accountant (CPA, CGA) of Ontario.
Video about Kumtor:
COMPANY NEWS