Safety of employees
Kumtor Gold Company recognizes the protection of the health and safety of its employees, contractors, the public and the environment as among the highest corporate priorities at all stages of our activities including exploration, operations and decommissioning.
Our committed goal is "ZERO HARM" and believe that no task is worth completing unless it can be done safely and that everyone goes home safe every day.
We strongly believe that a safe mine is a successful mine.
To further promote safety performance Kumtor Gold Company has introduced the Six Golden Rules of Safety.
1. Never break safety rules and standards
2. Wear appropriate PPE
3. Report all safety hazards and incidents
4. Be qualified and authorized to use tools and equipment
5. Never use defective equipment or disable safety devices
6. Be fit for work
Our Work Safe | Home Safe Safety Leadership program establishes and fosters a culture where individuals are responsible to take ownership of their personal safety and the safety of those working around them to ensure that everyone returns home safely after every shift.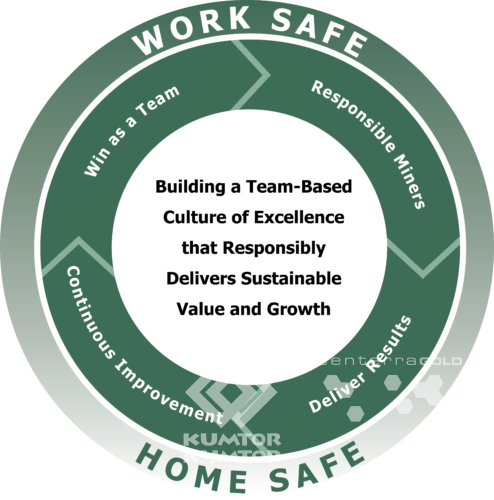 Work Safe | Home Safe is an integral part of our 4 core Values:
• Win as a team. We win as a team when everyone is committed to the team, highly engaged, look out for each other and recognize the contribution and effort of each other. We need to take care of each other, help each other and make sure everyone goes home safe every day.
• Deliver Results. In delivering results we strive for operational excellence and accept that we are each accountable for our results and have the authority to always produce work in a safe manner. We believe that there is no success without doing what we do safely and that no one should suffer an injury for the company to be successful.
• Continuous Improvement. We improve ourselves and our company by challenging the status quo, embracing change and searching for new ways to grow our business. We constantly strive to make our operations and work environment better for everyone by implementing ideas on how to improve what we do, how we do it and how to eliminate or plan for any risk a worker could encounter.
• Responsible Miners. As responsible miners we meet regulations, policies and standards and ensure we actively engage our people and the communities where we work to attain open and transparent relationships. We believe our responsibility is to have a positive impact wherever we operate and that every person plays a role in ensuring this. We need to produce safely.
Under the Work Safe Home Safe program the company fully supports the fundamental rights of every worker to:
• Being treated fairly and constituently when we apply our policies, rules and procedures;
• Know and be informed about the work being performed and the potential risks that are involved;
• Be trained for the work they do so they can have the confidence to perform the work safely;
• Refuse doing work that they believe is unsafe.
Kumtor Gold Company is an industry leader in safety performance and committed to continuing to improve the health and safety performance of the company because a safe mine is a successful mine.
Work Safe | Home Safe encourages everyone to:
•Recognize that they have the authority to be a safety leader;
•Actively use the tools we have in place to identify hazards and prevent incidents from occurring;
•Understand that everyone is accountable in preventing injuries with each and every job we do.
We are committed to achieving "ZERO HARM" and by working together we can ensure that every employee, contractor and other business partner return home safely after every shift.