Wildlife numbers have increased since mining started.
We work with NGO partners to support nature conservation.
We support the neighboring Sarychat-Eertash Nature Reserve.
Our commitment
As a large opencast mine, it is inevitable Kumtor has impacts on the local natural environment. We are committed to understanding our impacts, to understanding the native biodiversity, to reducing negative impacts during the mine's operational life, and to working with our partners to pursue net biodiversity gains. We feel that a critical success factor includes consulting with, and working with local, national, and international stakeholders.***
Regional context
The Tian Shan mountain range is one of the longest in Central Asia, stretching approximately 2,800 kilometres through mostly the Kyrgyz Republic and China. The region features globally important biodiversity and is home to a number of endangered species including the snow leopard, and the Marco Polo sheep (argali).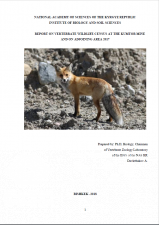 Report on vertebrate wildlife census at the Kumtor mine and on adjoining area
The snow leopard is an important cultural symbol in Central and South Asia and features widely in local folklore. Other species of concern include an aquatic plant in the Ranunculus family (Hedysarum kirgizorum), which is also included in the Kyrgyz Red Data book, possibly endemic species of dandelion (Taraxacum syrtorum), and a tulip (Tulpe tetraphylia).
Sarychat-Eertash Nature Reserve
The presence of the Kumtor Gold Company has provided benefits to snow leopard conservation in the Central Tien Shan region of Kyrgyzstan. In the late 1990's multilateral lenders (EBRD and IFC) engaged an NGO to review the biodiversity aspects of Kumtor's Environmental Impact Assessment. The review made recommendation on mitigation measures for the mine, ranging from no-hunting policies to wildlife monitoring, which Kumtor adopted and continues to report results against their Annual Environmental Reports. The lenders also encouraged the Kyrgyz Government to establish the Sarychat-Eertash Reserve (SCER) adjacent the mine site. Once established, the lenders and Kumtor mobilised funds and resources to support NGO led initiatives that have built the capacity of the Reserve, developed a Reserve management plan and supported biodiversity focused research and community development efforts. A strict no-hunting policy is still being applied on the mine site that acts as a barrier to poachers. The number of argali on the Reserve has increased from 750 head to 2,500, making this the largest population in Kyrgyzstan. The population of ibex has stabilized at 750-850 head. Research also confirms that the number of Snow leopards present in and around the SCER has increased significantly to 18 individuals.