Air Emissions
We routinely monitor and report the air quality at our mine site. This effort is supported by six high-volume samplers located strategically around the mine site to measure total suspended particulate (TSP) levels. At all stations, the annual average TSP concentration has been below the Kyrgyz 24-hour TSP limit of 500 micrograms/m3 for industrial zones. Selected TSP samples are also analyzed for cyanide, sulfur, arsenic, nickel, selenium, zinc, uranium, radium-226, and strontium-90.
We maintain mine roads and use water trucks to suppress traffic-related dust
Road dust, dispersed by the movement of light and heavy vehicles, is the principle source of observable and measurable air emissions along our access road through the Barskoon Valley. Concerns have also been raised about mine dust deposition on nearby glaciers. Regular monitoring of ambient air quality for particulate matter is a component of our environmental monitoring program.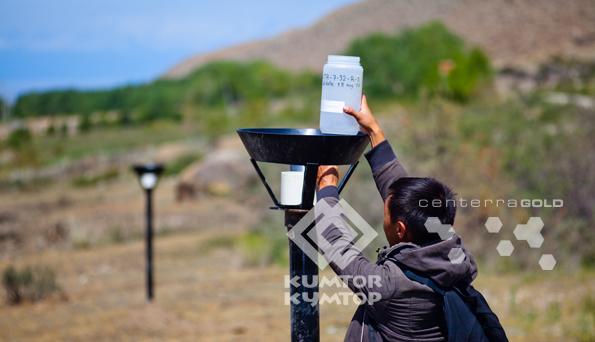 Access to site for personnel, and for delivery of consumables and other materials, is via a technical road, maintained by Kumtor and which passes through the Barskoon Valley. This road also serves as an access road to points of touristic interest, several small communities, including Ak Shirak village, summer pastures and 'hunting farms' in the high altitude valleys, and the Sarychat-Eertash Nature Reserve. Thus, this road brings not only the supplies and people needed for mining operations, but also residents, researchers, hunters, and tourists. Following stakeholder concerns about dust levels in the Barksoon Valley, we expanded our watering activities and air quality monitoring program and we are exploring further appropriate mitigation measures along most affected sections of the road.