Our drinking water is safe and compliant. All our wastewater is treated and is environmentally safe before discharge.
The water we use at the mine site for standard domestic use (for drinking, food preparation, personal hygiene and general cleaning of the mine camp and offices) is routinely tested against Kyrgyz, World Health Organisation, and Canadian drinking water standards.
We also sample and test water quality at over 30 points across the Concession area. Sampling points are selected from a combination of legal obligations and additional commitments related to our environmental management responsibilities and programs.
***
Our main water quality monitoring point (also called the 'Compliance Point' or 'End of Mixing Zone') is just downstream of the concession area in the Kumtor River, after all discharges and surface water have mixed. Routine monitoring continues approximately 230 km downstream of the mine, to a location 2 km upstream of the town of Naryn.
Our results show that at the Compliance Point, the water quality typically meets designated water quality standards. Where concentrations are higher (for example, for manganese, magnesium, aluminium and iron), it is normally due to naturally elevated background concentrations in the local environment (documented prior to the start of mining operations) or the concentrations do not represent a risk to human health or the environment. We are in compliance at all times with water quality standards at Naryn.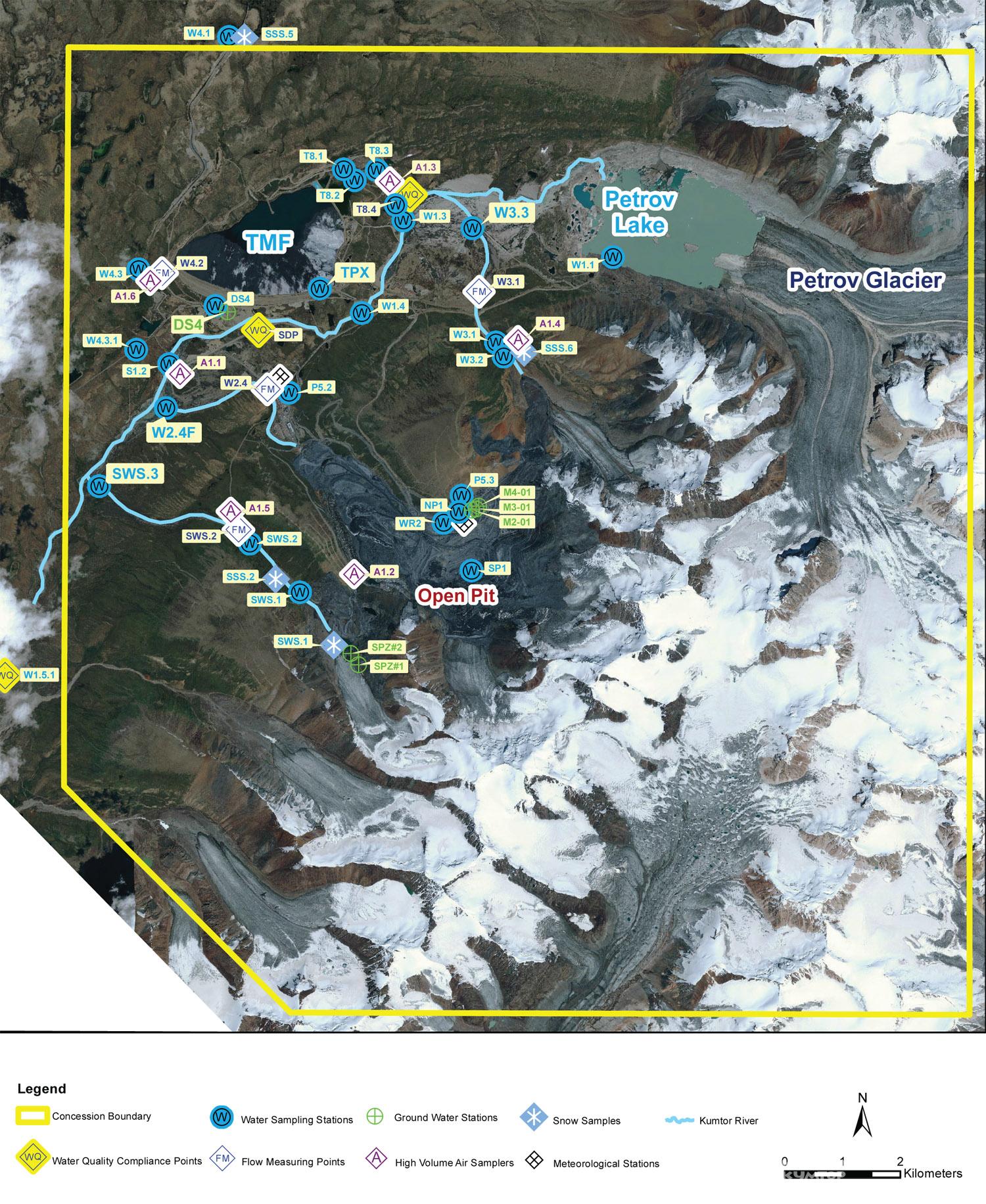 Government representatives also routinely and independently collect water samples for analysis, and notify us of any concerns. We then respond or address concerns accordingly. In 2012, at the request of the Kyrgyz Government sponsored State Commission, an independent assessment of water quality around Kumtor was carried out by German experts. Sampling (at 12 surface water points) and analyses were performed in accordance with European and German standard procedures. Key conclusions were:
No evidence of "undue high concentrations of cyanide and toxic elements in surface water"
"The concentration of elements and cyanide in waste water are significantly below the limits of the German Ordinance on Waste Water."
Elevated concentrations of certain parameters indicate further research is needed, but for the Kumtor River downstream, "do not represent a hazard for humans"
Monitoring results are presented in annual environmental reports which are also available on our website, "Reports" section.