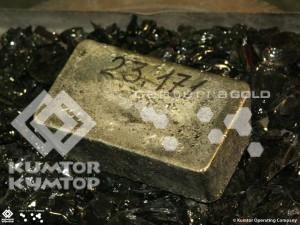 Russian NOMOS Bank purchases 98% of gold produced in Kyrgyzstan, according to Kalkaman Berdiyev, spokesman of Kyrgyzaltyn JSC.
"A private Russian bank, NOMOS, purchases 98% of gold produced in Kyrgyzstan. This bank has been Kyrgyzaltyn's major purchaser of gold and silver since 2006 with the Russian bank's trade turnover growing each year," said K. Berdibayev.
In 2010, according to the spokesman, Kyrgyzaltyn sold NOMOS Bank 11,200 ounces of refined gold worth $13.9 million produced by Kyrgyzaltyn's mines. That same year, Kyrgyzaltyn sold 539,500 ounces of gold worth $653.9 million produced at Kumtor. The total 2010 gold production was 411.1 kg at Kyrgyzaltyn's mines and 16,763.3 kg at Kumtor.
"In 2011, however, the amount of gold sold by Kyrgyzaltyn to the Russian bank was as great as 15,000 ounces worth $24 million while Kumtor's gold was sold to an amount of 630,000 ounces worth $979.3 million," K. Berdibayev added.
According to K. Berdibayev, the 2011 gold production was 509.1 kg at Kyrgyzaltyn's mines and 19,677.4 kg at Kumtor.
Meanwhile, information posted for potential clients on the website of NOMOS Bank says that the Bank offers a wide range of gold and silver bars produced by Russian refineries without saying a word about gold purchased from Kyrgyzstan.
It will be recalled that the group of NOMOS Bank ranks eighth among the largest banking groups in terms of assets and second among Russia's largest private-owned universal banks: the consolidated assets of the group are Rubles 644.2 billion and equity capital is Rubles 70.1 billion as of September 30, 2011.
For reference:
$1=29 rubles
100 soms = 62 rubles.
By Madina Sheraliyeva
KirTAG, February 28, 2012, Bishkek