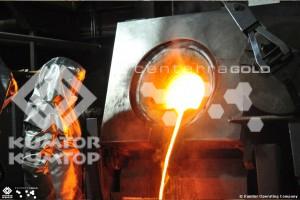 Centerra Gold Inc. ("Centerra") and Kumtor Operating Company have summed up preliminary 2011operating results.
•  During the fourth quarter of 2011, the Kumtor mine produced 138,696 ounces1 or 4.3 tonnes of gold.
•   During the twelve months of 2011, gold production was 583,156 ounces or 18.1 tonnes.
•   Taxes and other mandatory payments have exceeded $ 173 millions2, including contributions to the Issyk-Kul Development Fund ($ 10.79 million).
•   Kumtors' 2012 production forecast is in the 575,000 to 625,000 ounces (17.8 to 19.4 tonnes) range.
•   Exploration expenditures in 2012 are expected to be $15 million.
•   The capital expenditures for 2012 at Kumtor are estimated to be $373 million, including $328 million of growth capital and $45 million of sustaining capital.
A detailed 2011 results report will be issued in February 2012.
Additional information about Centerra and Kumtor Operating Company is available on the SEDAR website www.sedar.com, as well as on corporate websites www.centerragold.com and www.kumtor.kg .
_________________________________
(1) One Troy ounce equals to 31,1034768 grammes.
(2) Unless specified otherwise, all dollar figures in this news release are in US dollars.
For further information please contact Media Relations, KOC
Tel.: (312) 90-07-07; 90-08-08; fax: (312) 90-07-28