When KR Parliament members and other activists discuss the future of Kumtor, they speak about gold, shares, interests, taxes and other inanimate notions forgetting that Kumtor is all about people that have problems, histories, hopes and concerns.
REGRETS FOR THE MOTHERLAND!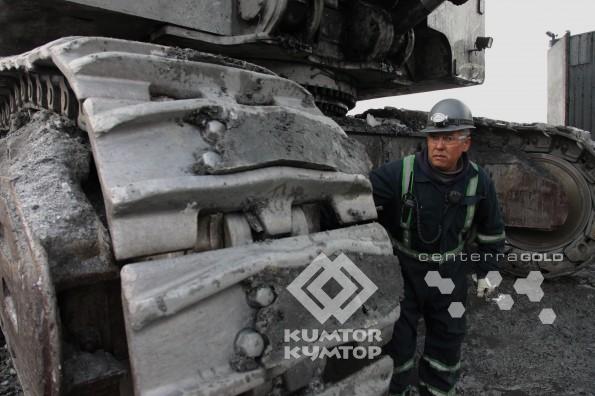 Balykchy resident Zamir Iskakov can be rarely seen at HD Pit Shop because the Field Mechanic has little to do there. His skillful hands can be needed in many pit areas during the shift. Once a shovel loading material on haul trucks breaks down, this mechanic rushes to the site to get it fixed. If an engine on the grader start is malfunctioning, this is where Zamir can be found.
The work conditions are difficult. Very often, the working process is complicated by weather conditions – icy rain, cold wind, snow. However, the mechanic does his job diligently since he clearly understands that other mine operations very much depend on his performance.
– You know, I came to work at Kumtor mainly because I wanted to do what I like. Many years ago, I got a profession of mechanic but did not have too much of chance to work in this profession. I had worked as driver before I was hired to work here – recollects Mr. Iskakov.
First, Zamir worked for a contractor providing services to the gold mining company. One year later, he was hired for work at Kumtor.
– Of course, life has changed for the better. It is so exiting to understand that you are part of a huge working mechanism. Good wages are even better – smiles the Field Mechanic. It means that your family is not in need.
Zamir has 2 kids. The younger one is still a baby, not even ready for a day care yet. He speaks high of the elder daughter: Student of the Linguistics Department. She studies Chinese. She managed to enter a university. She put a lot of efforts, got prepared without a private tutor. Zamir does not worry about his daughter's future. He is positive that her ambitions will help her in her life. He is more concerned about the future of Kyrgyzstan.
– Protest actions create foremost instability in the country. This is the business of politicians. I personally worry about the country where I was born and raised.
SINGLE FATHER HANDLES THE SITUATION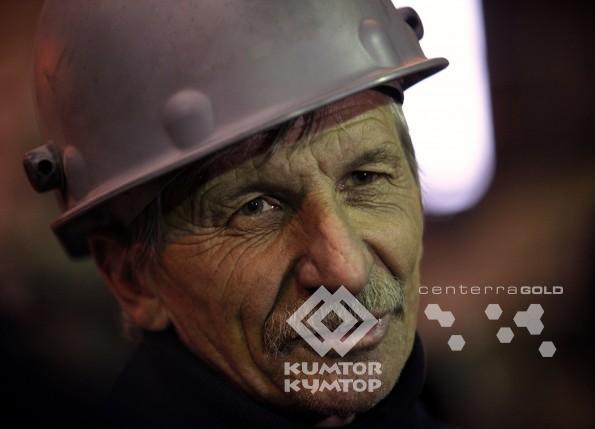 Alexander Zubkov, welder from HD Pit Shop is respectively called Sasha Bayke (transl. "Elder Brother"). The respectful form is counted not only for age. To some extent, this is due to his record of service – this man has been working at the Kumtor Mine for the last 15 years. Moreover, this resident of Balykchy has a great command of the Kyrgyz language.
– Many things have been forgotten – he starts feeling embarrassed hearing a compliment. In fact, from the very childhood I spoke Kyrgyz since I was raised in the Jety-Oguz Village where I learned this language. I teach my children too. The elder daughter speaks fluently and the younger daughter manages to get by. I believe it is a shame to live in Kyrgyzstan and not to speak Kyrgyz – summarizes Sasha Bayke.
However, it is not only bilingualism, but also great professional skills that help him fulfill his job responsibilities. In a huge HD Pit Shop that looks like a giant's cave, there is much to do for a welder. Dazzling sparks from the welding arc flow over the shovel bucket or some other part of this huge mountain of equipment.
– Equipment gets worn out – it needs patching. For example, seams on the bucket need to be re-welded approximately once every two months – explains Mr. Zubkov.
– A special approach is required since there is no such sophisticated equipment down there as we have here. Here we have advanced mining technologies and equipment. Therefore, many things are taught here during on-job training. On the whole, according to Mr. Zubkov, the Company name 'Kumtor' is associated with the word 'Future'.
– Great work conditions are created here: safety, PPE, food. Professional development is another field where you can feel continuous improvement. Another important thing – the team is like a big friendly family. I think I have thousands of friends all over Kyrgyzstan.
This welder has four children. He has to raise his girls, students at schools and colleges, by himself since he recently became a widower.
– I'm coping with it – says Sasha Bayke, making efforts to get rid of sorrow. – It is good that I still work at Kumtor. Otherwise, it would be much worse.
CONTRACTORS – SPONSORS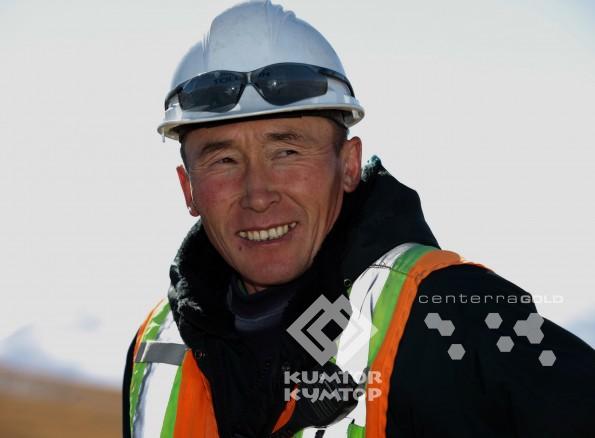 Employees of the contractor company Favorite-Trans won a tender to work for Kumtor in the beginning of the year. They started providing services in May.
– Our task is to remove a 20-cm fertile topsoil layer. This soil will be piled and stored until the Mine closure – explains Tologon Sarynjaev, foreman of the contractor company Favorite-Trans, resident of Orgochor Village of the Jety-Oguz District.
– Waste dumps will be located in this area and further reclaimed after the Mine closure. Fertile soil is planned to cover the waste dumps with grass planted on it.
Employees of Favorite-Trans, majority of which are residents of the Jety-Oguz District, consider a 2-year contract with Kumtor not only as a possibility to earn for themselves but also as a means to help fellow-villagers. The contractors provide sponsorship to orphaned children living in the Orphanage in the Kyrgyl-Suu Village and promote sports in the District. This is not surprising since Tologon Sarynjiev is a forwarder of the Kumtor soccer team.
– If there is an opportunity to help somebody, help needs to be provided – expresses his conviction Tologon.
Over a few months of cooperation with Kumtor, contractors have felt all the advantages: safety, PPE, food and housing. Mine discipline is another thing that we had to learn. According to him, it would be good if other companies start applying the same work processes.
– Operations here are very efficient. Canadian management is not an issue as the majority of employees is Kyrgyz nationals. As for nationalization, supporters of this idea have to think whether Kyrgyzstan will be able to handle such operations – questions Tologon.
THERE IS ALWAYS ROOM FOR IMPROVEMENT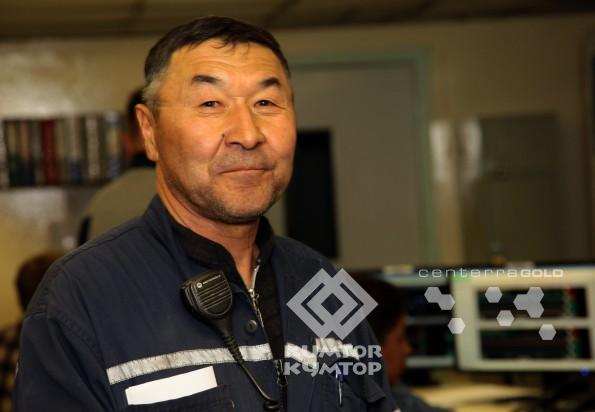 Baryktabas Usupbaev works as a CIL Operator in the very heart of the Mine, i.e. at the Mill. Resident of the Orgochor Village of the Jety-Oguz District, he got this job 16 years ago.
– I did not get this gob immediately. First, I had to undergo an interview, then examination. I started working in the position of an Assistant Operator and gradually was promoted to Operator – tells Baryktabas.
The Orgochor Villager loves his job. He is certain that the section where he works is the most important in the Mine operations. The carbon-in-leach process is nothing else but a process to separate precious particles of gold from waste rock.
– One can say that it is a creative process. When the recovery rate is very low, we have to think it over a lot how to make it higher. Here one should use their head in order to find an efficient approach, if any is available – smiles Mr. Usupbaev. – It is such a puzzle.
Baryktabas is a real fan of his job and obsessed with his carrier. To enhance his knowledge, he spends his off-duty time on that. Reading books and learning industrial innovations through the Internet is the main hobby of the CIL Operator.
– Each person shall constantly commit to development – spiritually, physically, or financially. Going forward and setting goals is all that it requires. You cannot stop – says this specialist.
– Why do I work here? Because I am fond of the things I am doing. Because this job gives me a foundation to develop myself further. I always say that I am willing to change my job for a job that is more interesting than the current job.
Baryktabas is happy to share his valuable knowledge gained over the years with young colleagues. – There is no reason to be stingy in this respect – believes Mr. Usupbaev. – Moreover, it is a great affair to raise an apprentice in such a wonderful team.
– That is why we understand one another at a word, and this is fantastic. I am really thankful to my destiny for all the things that happened to me. Back at home, things are going well thanks to God and the job is excellent too.
KITCHEN TECHNOLOGIES

Tasty aroma of fresh bread makes any lunch much better. Jyldyz Omurbaeva, baker, knows better than other how important this food product is. Thanks to her, Mine employees receive all types of nourishing bakery for each meal.
– They say bread is the head of all things. Can you feel full without it? – asks Jyldyz, and then responds herself: – Of course, not. Especially if the job is as hard as our employees have in the pit.
By the way, the baker business is not easy either. The working day starts at 4 a.m. First, bread dough is prepared. For this, the best food products are used: eggs, oil, and flour. 200 kilograms of flour are used per day. Two types of bread are baked each shift: black and white, plus other pastry: cakes, cookies, rolls/buns.
The lady really enjoys demonstrating her workplace. Modern ovens, dough mixer is quite sophisticated as well – all this, says Jyldyz, is an indicator that such a traditional profession as a baker keeps on developing.
– Professional development for us is not just recipes. It is also leaning and implementation of new work approaches, i.e. transfer from grandfathers' methods to advanced equipment. A feeling that you keep in pace with the time is a stimulus – says the baker. – A secret of success is simple – you should work hard and strive to learn all the ropes of your profession.
Jyldyz Omurbaeva has worked at Kumtor since 1995. Prior to that, she had been unemployed. After the Former Soviet Union collapse, when a restaurant in Pokrovka (now called Kyzyl-Suu Village) where this woman worked for 5 year had a closure, she became a housewife.
– Back in those times, it was a pity that I became unemployed. But later on, I got this job and life has settled. Now, not only me but also my children (son and daughter) are proud that I work in this Company – smiles the baker. – They also know that shutdown of the Kumtor Mine will be a fatal mistake for the country.
DELICIOUS INITIATIVES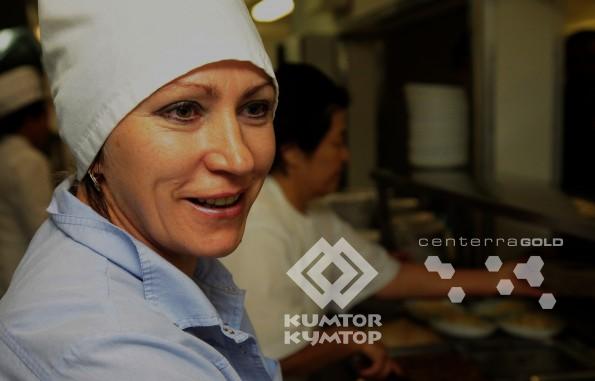 Morning of a cook in the Kumtor Camp always starts with a routine. First of all, the whole shift crew checks if everything in the kitchen is OK in terms of safety.
– For us it is a very essential issue, as we all work with the kind of equipment that requires attention in all aspects, – says Balykchy resident Elena Kazachkova, who has worked at the Camp kitchen for a number of years now.
Then, cookery specialists immediately start preparation of the dishes included in the menu of yet another work day. They handle large quantities of products in the kitchen. Workers eat approximately 800 kilos of cooked meat per single day. And on the fish-day once a week they consume approximately 400 kilos of fish.
– During the shift we just don't have any time for idling. Preparation of every dish is scheduled minute by minute. We have to do everything in due time: put the meat, add spices, load potatoes, – says Elena. – Because at a definite time people will come for lunch, and there is no way you can tell them: 'Guys, wait a little. Not everything is ready yet.' We cannot let fifteen hundred workers stay hungry.
The canteen of the Camp has a diverse menu. Workers can choose from a variety of national and Canadian dishes. However, the list is updated regularly.
– Some of us intentionally travel abroad to learn how to cook something new. For instance, I brought several recipes from Turkey and China. Although, frankly speaking, our people are quite cautious to new things. But only until they have tried them well enough, – eventually, these delicious experiments are well accepted by everyone.
However, currently the canteen staff just like all other Company employees cannot think about delicious things. Everyone is concerned about the future of the Company, which is their own future. Elena, a mother of four, worries just as much as the others do, and does not understand why she and her fellow workers have to lose their jobs paying for somebody's whistle.
– The Parliament members have to strive to ensure that every Kyrgyzstani works in a company like ours. Every single citizen must live a decent life, enjoy it, and work for the good of the country, – the lady believes.
FOR ORDER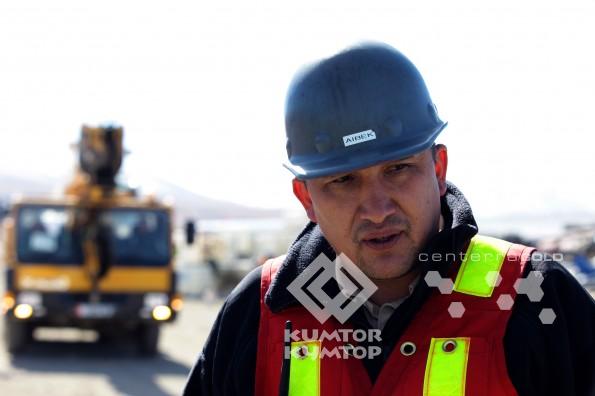 The contractor company that Aibek Shambetov, resident of the Ottuk Village, Jety-Oguz District, works for has been with Kumtor for two decades now, since the opening of the mine. All these years the contractors have diligently performed the assigned job: sorting of industrial waste.
– Our duty is to keep order on the industrial waste yard. Our company sends up to the mine approximately fifty workers per shift. During their work shifts they sort garbage: metal, wood, and plastic, – tells Shambetov. – What to do with the sorted garbage is the Company's decision. Wood, for instance, is taken to an orphanage to help with heating.
Aibek is convinced that such a long partnership of the contracting organization with the Company would not have been possible if any of the parties had a dishonest approach to their duties.
– We do our job to eliminate any further issues. And the Company provides us not only with decent working conditions, but also stable income. Surely, you understand how important this is, as every one of our guys has a family to take care of, – says Shambetov.
The current situation around the Company surprises Aibek: how can anyone target closure of perhaps the only properly working company in the country?
– The Company has to continue working. Just imagine what will happen if Kumtor stops. On one hand the country will lose more than half of its budget, and on the other, thousands of people will lose their jobs. Who will provide them new workplaces then? – Aibek Shambetov is totally against any rallies that destabilize the country. – Do we need that? No. On the contrary, we need calamity to attract more investors, open new companies, and let people earn a decent living.
FROM TRAFFIC PATROL, AND INTO GOLD MINING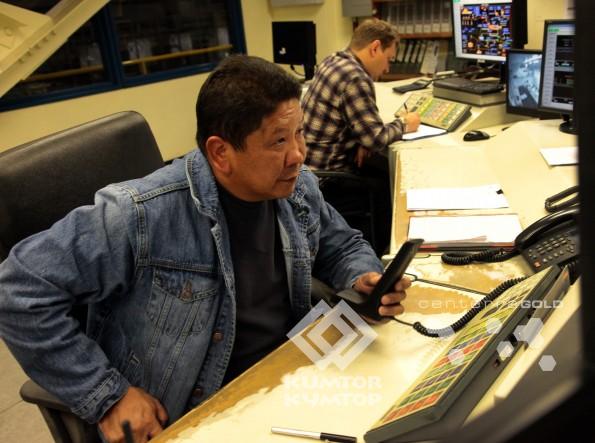 Taldybek Asanov from the Kyzyl-Suu Village, Chief Control Room Operator, describes the Mill as a perfect working organism of which every worker is a vital part.
– One cannot learn everything about the Mill even in a year. Every single person working here is an old-timer. They have worked at the Mill for at least ten years. All are high class specialists. And from this Control Room, – he shows with his hand the wide room with several computers in the middle, – we manage the delicate process of gold recovery. Starting from the ore feed and up to pulp discharge.
Then Taldybek gets back to work. A few clicks of computer mouse, and the amount of water fed into the CIL area increases. The Chief Operator carefully follows the constantly changing picture on the display, and then presses some buttons on the keyboard.
– From this place, we can control all stages of the process. It is essential to notice on time where issues occur and fix them. Over years of work you start understanding what areas are the most complex, so you try to pay more attention to them, – Asanov turns his head back to the display.
Taldybek tells us that he got a job at Kumtor in 1997, after six(!) interviews.
– The selection process is very strict. Eventually, I was hired as an Operator Apprentice in the reagent mixing area, – he recalls. – I actually graduated from the Road Transport University, and was supposed to become a traffic inspector.
Mr. Asanov has no regrets about his choice and lost chance to build a career as a traffic patrol officer. He says that this job is the best that a person can dream of. Of course, there are certain complexities, but it is still worth it.
– Stability, confidence, and development. What other criteria to selection of a workplace there may be? Besides, we should not forget about the material motivation, – says Taldybek. – Did you notice that everyone here has four or more kids? That's because people are confident in their future.
THIS IS OUR LIFE, AFTER ALL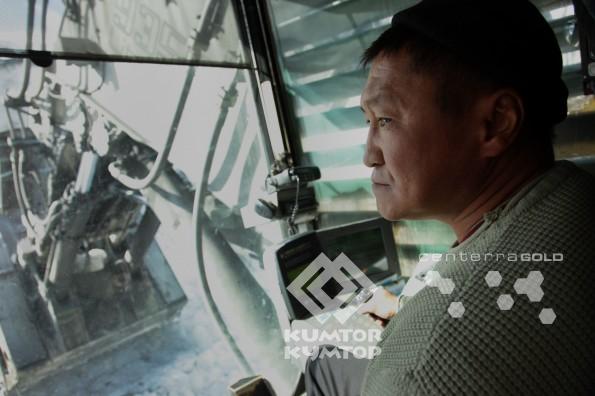 It is almost eighteen years now that Jenishbek Kenenbekov, the Company's Shovel Operator, spends every day of his work in the pit. He now operates a monstrous piece of equipment used to load haul trucks. Every Caterpillar takes up to 200 tons of load, and each ton ends up exactly in haul truck body owing to the fine-tuned skills of Kenenbekov and his fellow workers.
In fact, a shovel operator is the highest step in evolution of a heavy-duty equipment operator at the Kumtor Mine. Jenishbek spent years 'taming' first the crusher, then transferred to a haul truck. Then he operated a dozer for some time, and only after that he got transferred to a shovel cabin.
– I can now say that I have mastered all advanced heavy-duty mining equipment, – says Mr. Kenenbekov without a glimpse of boasting. – However, except Kumtor, there is no such equipment elsewhere in Kyrgyzstan.
Over all these years, Jenishbek did not cease to love his challenging job. On the contrary, as stated by the Shovel Operator, today he is still full of pride to have mastered all the intricacies of his job.
– In fact, every employee here is a professional. Everyone here earns their bread putting their whole soul into the job, – says the Shovel Operator. – This is how we ensure our financial independence, opportunity to raise our children in welfare, help our parents, and overcome certain obstacles of life.
Janishbek believes that this is what other Kyrgyzstanis need to learn.
– As a patriot of Kyrgyzstan, I really want the country to develop in all directions. I want welfare and prosperity to be in every home. But I know for sure that if everyone does not start working at full capacity, this will never happen, – Jenishbek Kenenbekov concluded.
THANKS TO THE PARLIAMENTARIANS – I'M NOW OVER BOARD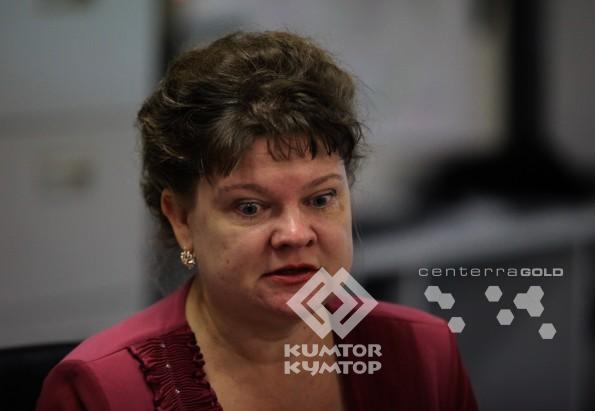 Elena Senkina, Diamond Drill Administrator of the Exploration Department is about to complete her next-to-last shift at the mine. Her next shift will put an end to her almost-twenty-year career at Kumtor. She joined the Company in 1994 as a secretary. After a year and a half, she transferred to the Mine, where she worked until reduction of the department in September this year.
Now, Elena takes part in closure of the exploration department, and her views for the future are quite pessimistic.
– I just cannot image how my life will go on now. I indulge no vain hopes for future employment. All the qualifications I obtained during my work in the mining industry, knowledge of English and Spanish, and advanced computer skills are useless in this country. There are just no companies here that I could apply to, – complains the almost Ex-Diamond Drill Administrator. – Therefore, all I can expect down there is a tiny unemployment allowance.
Other members of the Exploration team are in the same dead-end. All in all, there are thirty of them. They all are high-class specialists with a heavy baggage of experience and unique skills.
– I guess, for this we can thank those Parliament Members who stir up trouble around Kumtor. They set up impossible conditions for further operation of the Company. The reason for such excessive parliamentarian activity, – expressed her confidence Ms. Senkina, – is their aspiration to lead the nation to yet another revolution. This is just an excuse for another coupe d'état. Given the current situation, even if the country was given 100% of shares they would have figured out something to pick at…
'The Vecherniy Bishkek Newspaper'
'The Super-Info Newspaper'