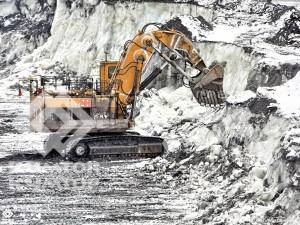 At the Kumtor mine, gold production in the second quarter of 2012 was 41,307 ounces*, or approximately 1,285 kg compared to 139,077 ounces, or more than 4.3 tonnes of gold in the comparative quarter of 2011. The decrease in gold production in the second quarter of 2012 is the result of:
– Fewer tonnes milled;
– Lower mill head grades (1.33 g/t versus 3.27 g/t in the second quarter of 2011);
– Lower recoveries (71.2% versus 82.6%).

Gold sales in the second quarter of 2012 were 40,228 ounces or approximately 1,251 kg. Revenues from gold sales in the second quarter of 2012 were $64 million88. The average realized gold price was $1,592 per ounce.

The gold produced by the Kumtor mine, is purchased at the mine site by Kyrgyzaltyn JSC for processing at its refinery in the Kyrgyz Republic pursuant to a Gold and Silver Sales Agreement signed by KOC, Kyrgyzaltyn and the Government of the Kyrgyz Republic. Kyrgyzaltyn JSC enjoys the exclusive right to sell the refined gold and silver.

Total tonnes mined for the second quarter of 2012 were 42.7 million tonnes compared to 38.3 million tonnes in the comparative quarter of 2011, an increase of 12% due to the increased capacity of the expanded mining fleet. During the quarter, the company mined waste from cut-back 14B and continued to unload the ice and waste material from the high movement area. The revised mining plan in the southwest section of the open pit and the progress with the ice and waste unload is expected to provide access to ore by the end of the third quarter of 2012. During the second quarter of 2012, no ore was mined and all the mill feed processed came from stockpiles.
For other operational results see Table # 2.
Production costs and capital expenditures

Total production costs, including amortization and depreciation, in the second quarter of 2012 were $40.7 million.

Capital expenditures spent and accrued at Kumtor for the second quarter of 2012 were $110.0 million which includes $11.2 million of sustaining capital predominantly expended for:
– the dewatering program ($4.3 million);
– the major overhaul program for heavy duty equipment ($3.9 million);
– the tailings dam expansion ($2.9 million);
– other projects ($0.1 million).

Growth capital investment totaling $98.8 million was expended for:
– prestripping capitalization ($64.1 million);
– the underground development ($12.0 million);
– purchase of new CAT 789 haul trucks ($6.5 million);
– purchase of Hitachi shovels ($6.0 million);
– purchase of larger Sandvik drills ($5.1 million);
– Stockwork Zone delineation drilling ($1.2 million);
– camp expansion ($1.0 million);
– underground equipment ($1.0 million);
– expanded fuel farm ($0.6 million);
– other smaller projects ($1.3 million).

The underground development at Kumtor continued in the second quarter of 2012 with year-to-date total development advance of 1,010 meters at Decline #1 and Decline #2. The two declines joined on June 30, 2012 and flow through ventilation has been established. As at June 30, 2012, the Company has capitalized approximately $180 million for the underground development, delineation drilling and associated underground equipment.

Exploration Update

Exploration expenditures totaled $2.9 million for the second quarter of 2012. Exploration activity focused on drilling of the SB Zone from the Central Pit, underground exploration drilling from Decline#1 and #2, and drilling at Sarytor.

A complete listing of the drill results and supporting maps for the Kumtor pit and Northeast area have been filed on the System for Electronic Document Analysis and Retrieval ('SEDAR') at: www.sedar.com and are available at the Company's web site at: www.centerragold.com.
Payments to the Kyrgyz National Budget and Mandatory Contributions

During the first six months of 2012, contributions to the national budget in taxes, deductions to the Social Fund and other mandatory payments have totaled more than $77.9 million. According to the official National Bank exchange rate as of June 30, 2012, this is more than 3,679 million soms (compared to 3,650 million soms in the first six months of 2011). (See Table #1).
Other Corporate Developments
Tax Advance Agreement

At the request of the Kyrgyz Government, on May 28, 2012, the Company advanced $30 million in revenue-based taxes. This interest-free advance will be applied against revenue-based taxes otherwise payable during 2012 (starting in November 2012) and 2013, under a formal repayment schedule that will involve $10 million being off-set in 2012 and the remaining $20 million off-set in 2013.
National Micro-Credit Financing Program

On April 23, 2012, the Company signed an agreement with the Kyrgyz Government to fund $21 million into a national micro-credit financing agency, Ala-Too Finance, which was created under the National Program for Employment and Alleviation of Poverty. $21 million was transferred to the said agency part of an existing government program whose objective is to provide financing for sustainable development projects throughout the Kyrgyz Republic.
Quarterly Dividend

As disclosed by Centerra Gold. Inc. on August 1, 2012, its Board of Directors has authorized a dividend of Cdn$0.04 per common share (approximately US$9.4 million at the current exchange rate). The dividend of Cdn$0.04 per common share is payable on August 30, 2012 to shareholders of record on August 17, 2012.
The dividend is an eligible dividend for Canadian income tax purposes.

In accordance with Centerra's dividend policy, the timing and quantum of dividends are to be determined by the Board of Directors from time to time based on, among other things, the Company's operating results, cash flow and financial conditions.
National Commission Activities

Based on the hearing by the Kyrgyz Parliament in June 2012 of the report of the Interim Parliamentary Commission on the review of Kumtor Operating Company's compliance with rules and standards regulating efficient use of natural resources, protection of the environment, production safety and social protection of the population in the target area set up by Jogorku Kenesh Decree #1642-V dated February 15, 2012, and pursuant to Jogorku Kenesh Decree #2117-V dated June 27, 2012, the Kyrgyz Government issued Decree #465 dated July 3, 2012, establishing a National Commission on the review of Kumtor Operating Company's compliance with rules and standards regulating efficient use of natural resources, protection of the environment, production safety and social protection of the population in the target area.
In addition to the National Commission, two interagency commissions were formed on July 13, 2012, whose objective was to review Kumtor Operating Company's compliance with legal and environmental rules effective in Kyrgyzstan.
As previously noted, the Company believes that the findings of the Parliamentary Commission set out in the Interim Parliamentary Commission Report are without merit. Nevertheless, Centerra and Kumtor Operating Company are working with the National Commission and the interagency commissions, and are ready to work with any other Kyrgyz regulatory body to resolve matters.
Cancellation of Government Resolution #168 of March 24, 2010

On July 5, 2012, the Kyrgyz Government issued Decree #475 cancelling Government Decree #168 dated March 25, 2010, which provided Kumtor with land use (surface) rights over the Kumtor concession area for the duration of the Restated Concession Agreement. On July 6, 2012, in response to a request for clarification from the Company, the Kyrgyz Republic Prime Minister confirmed the Government's position that Decree #475 would have no impact on or limit in any way Kumtor's activities or operations.
Notice from the Kyrgyz Republic Social Fund

On July 17, 2012, the Company received notice from the Kyrgyz Republic Social Fund declaring invalid an August 23, 1994 agreement between the Kyrgyz Social Fund and Kumtor Operating Company, and requiring Kumtor to pay Social Fund contributions for all expatriate employees for the period from February 15, 1993 to present.

In addition, by the same notice the Social Fund obliged Kumtor Operating Company to make Social Fund contributions on high altitude premium paid to all Kumtor employees before 2010, although the dispute on this issue between the Social Fund and Company had been settled extrajudicially. The Company transferred the difference between Social Fund contributions for 2010 and 2011 and agreed to apply the contribution going forward.
The Company notes that pursuant to the Investment Agreement, Kumtor is only required to make Social Fund payments in respect of such Kumtor employees who are Kyrgyz citizens.
Regional Exploration

Kumtor received notice on June 15, 2012, that the renewal applications for its exploration licenses for the Koendy license area and the Karasay license area would be reviewed by the Kyrgyz Republic Environmental and Forestry Agencies for possible impacts on the nearby Sarychat-Ertash State Reserve. Kumtor has been conducting exploration on these two license areas since 2010 and has expended in excess of $1 million. It is unlikely that any exploration work will be performed on these licenses in 2012.
Temporary suspension of further development work on the underground project

As previously disclosed, development work on the Kumtor underground project at the Kumtor Mine was temporarily suspended effective August 10, 2012. The temporary suspension is a result of the ongoing technical and financial study of the potential for expanding the limits of the open pit at Kumtor. Work-to-date has produced encouraging results and indicates that a much larger open pit is feasible, which would result in an addition to the open pit reserves and a substantially extended mine life. The expanded open pit would also encompass a significant part of the existing SB underground development and would result in a revaluation of the associated capital investment, therefore, further development work on the underground project has been postponed until the study is finalized.

The Company expects to complete the study and release its findings by the end of the third quarter of 2012. Underground exploration drilling will continue from the underground declines to further delineate and expand the SB Zone at depth and along strike.
Outlook for 2012

The Kumtor mine is expected to produce 390,000 to 410,000 ounces or 12.1 to12.75 tonnes of gold in 2012. Production at Kumtor is dependent on successfully maintaining the mining rates of the waste and ice in the south section of the pit to gain access to the higher grade ore in the SB Zone.

A substantial acceleration of ice and waste movement in the first quarter, which was exacerbated by the labour disruption which occurred in early February 2012, required that operations in the southeast section be delayed. This is expected to delay the ore release from the cut-back to late 2013.

The Company is planning to focus on removal of ice and waste in the high movement area by allocating more of the existing mining capacity to unload activities.

The Company expects to partially mitigate the impact of the ice and waste movement and the resulting problems by accelerating mining in the southwest portion of the Kumtor pit to access part of the new reserves in September 2012 to provide ore for the Kumtor mill. The Kumtor mill processed stockpiled ore until July 22, 2012, at which time surface ore stockpiles were exhausted, and after which the mill was temporarily shut down. The planned downtime of the mill during August (reported in the Company's May 15, 2012, update) will be used to carry out scheduled mill maintenance.

2012 total capital expenditures for Kumtor are forecast to be $370 million including:

– $32 million of sustaining capital (the major items being: overhaul maintenance of the heavy duty mine equipment, expenditures for dewatering and infrastructure, effluent treatment plant relocation, tailings dam construction works, equipment replacement and other items);
– $338 million of growth capital investment, predominantly expended for prestripping ($156 million), purchase of new mining equipment, including 25 CAT 789 haul trucks, 4 Sandvik DR 460 drills, and 4 Hitachi 3600 shovels ($126 million), the underground project and other items ($56 million).

Exploration costs in 2012 are expected to total $13 million.

Commentary
Michael Fischer, President of Kumtor Operating Company, stated, "At present, we are continuing the prestripping  to gain access to the southwest section of the pit and we are on schedule to access the ore in mid-September to provide ore for the Kumtor mill, when we will see a return to normal production in the fourth quarter of 2012.  We are continuing our mitigation plan to deal with problems arising from the ice and waste movement to allow access to the southeast side of the pit."

* * *
Table 1
Kumtor Gold Project's Contributions in Taxes and Mandatory Payments for the First Six Months of 2012
| As of June 30, 2012 | USD thousands |
| --- | --- |
| Gross Proceeds Tax (13%) | 61,161.9 |
| Issyk-Kul Contribution (1%) | 2,550.9 |
| Environmental Pollution Charge for 2012 | 310.0 |
| Employee Income Tax | 2,627.8 |
| Contributions to the KR Social Fund (employer and employee) | 10,428.8 |
| Customs Administration Fee | 569.4 |
| Withholding Tax on non-residents | 208.5 |
| Other taxes and mandatory payments | 34.9 |
| Total | 77,892.4 |
| US$ official exchange rate to the Kyrgyz Soms as of June 30, 2012 | 47.2445 |
| Equivalent of payments effected in million Kyrgyz Soms | 3,679.9 |
Note: Under the Agreement on New Terms of April 24, 2009, the revenue-based tax and contributions to the Issyk-Kul Development Fund are estimated based on actual cash revenues from sales during the specified period.
Table 2
Basic Operating and Financial Results
Three months ended June 30
Six months ended June 30
2012
2011
Change (%)
2012
2011
Change (%)
Gold produced – ounces
41,307
139,077
(70%)
102,014
303,244
(66%)
Gold produced – kg
1,284.8
4,325.8
(70%)
3,172.9
9,431.9
(66%)
Gold sold – ounces
40,228
144,687
(72%)
102,425
310,832
(67%)
Gold sold – kg
1,251.2
4,500.3
(72%)
3,185.7
9,667.9
(67%)
Average realized gold price – $/oz
1,592
1,529
4%
1,677
1,451
16%
Revenue from gold sales to Kyrgyzaltyn – $ millions
64.0
221.2
(71%)
171.8
451.1
(62%)
Total production cost (with depletion and amortization ) – $millions
40.7
85.5
(52%)
113.7
156.8
(28%)
Revenue-based tax + Issyk-Kul Development Fund– $millions
41.7
24.5
70%
63.7
72.7
(12%)
Capital expenditures – $millions
110.0
46.0
139%
235.0
117.9
99%
Exploration expenditures – $millions
2.9
2.8
4%
5.1
6.9
(26%)
Tonnes mined – 000s
42,736
38,271
12%
73,482
74,779
(2%)
Tonnes ore mined – 000s
16
1,448
(99%)
79
2,036
(96%)
Tonnes milled – 000s
1,376
1,545
(11%)
2,627
2,936
(11%)
Average mill head grade – g/t
1,33
3.27
(59%)
1.64
3.68
(55%)
Recovery – %
71.2
82.6
(14%)
72.0
82.6
(13%)
The Kumtor open pit mine, located in the Kyrgyz Republic, is the largest gold mine in Central Asia operated by a Western-based producer. It has been operating since May 1997 and, as of June 30, 2012, has produced approximately 8.5 million ounces or about 264 tonnes of gold.

Kumtor Operating Company is the operator of the Kumtor project responsible for the entire production cycle.

Centerra Gold Inc. is a gold mining company focused on operating, developing, exploring and acquiring gold properties primarily in Asia, the former Soviet Union and other emerging markets worldwide. Centerra is a leading North American-based gold producer and is the largest Western-based gold producer in Central Asia. Centerra's shares trade on the Toronto Stock Exchange (TSX) under the symbol CG. The Company is headquartered in Toronto, Canada.

The Kyrgyz Republic, via Kyrgyzaltyn JSC, is Centerra's largest shareholder owning 77,401,766 shares (about 33%). As of June 29, 2012, Kyrgyzstan's interests were estimated at $538 million.
Additional information on Centerra and the full text of the news release on the results of the first quarter of 2012 are available on SEDAR at www.sedar.com and the Company's website at www.centerragold.com.
Information about Kumtor Operating Company is available at www.kumtor.kg
_______________________________________________________________________________________________________________________
* – One Troy ounce equals to 31,10348 grammes.
** – Unless specified otherwise, all dollar figures in this news release are in US dollars.
For further information please contact Media Relations, KOC