This season, Kumtor Gold Company has continued cooperation with the Mobile Child Development Centers at Jailoo in Jeti-Oguz and Ton regions of Issyk-Kul oblast. The company allocated KGS 215,000 to equip the above-mentioned centers with necessary materials to ensure their smooth operation.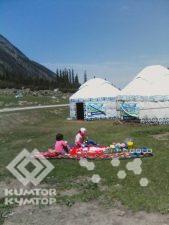 This year, child development centers of Jeti-Oguz and Ton regions have received not only toys and stationery for children's crafts, but also have been equipped with audio equipment. In addition, the allocated funds have been used for publishing teacher resource books for centers' trainers and instructors. This year, the number of centers in the two regions has increased: one more mobile center has opened in the Barskoon gorge, where children, in addition to general trainings, learn mental arithmetic.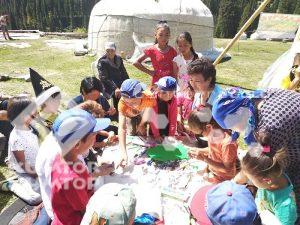 Such centers operate as part of the project run by the non-governmental foundation 'Initiative of Roza Otunbayeva.' During three years, the company has been helping to equip child development centers of Ton and Jeti-Oguz regions of Issyk-Kul oblast with books, stationery and office supplies. Kumtor employees have been visiting child development centers from the moment of their foundation and the beginning of the company's cooperation with the non-governmental foundation. Every year Kumtor employees organize various master classes and performances for children.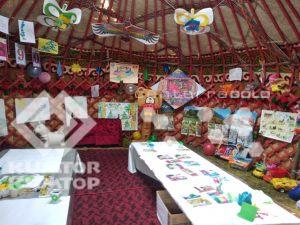 For information: The 'Child Development Centers' Project has become a continuation of the 'Jailoo Kindergartens' Project. It gives an opportunity to the children of cattle breeders, who move to the mountains in summer, to get ready for the school, continue training during the summer vacations and mix with other children within the center's framework. Teachers give training lessons for three hours a day; these lessons promote the development of speech, counting and other necessary skills in kids. Child Development Centers are aimed at providing equal access to education. The project focuses on hard-to-reach high-mountain pastures located in remote areas. Mobile centers are set up in yurts, equipped with all the necessary facilities to provide basic knowledge to preschool children. Due to the absence of electricity, playgrounds, books, toys, computers and centralized training centers with professional teachers in remote pastures, schoolchildren began to attend kindergartens as well. In 2016, the 'Jailoo Kindergartens' Project expanded its coverage and now holds itself out as the 'Child Development Centers' Project.