Since 2020, the Public Fund "Insan Generation" has been implementing a project retraining workers of sewing industry and improving their working conditions in Ton and Jety-Ogus districts, Issyk-Kul province, with the support of Kumtor Gold Company. KGC contributed more than 8.2 million soms in financial aid for this project.
During the first stage of the project, seminars were organized in the two said districts for 143 people where they were given advice as to how they should develop fast sewing skills in their employees, how business plans should be drafted, etc. During the second stage, 13 entrepreneurs were selected for further study in Bishkek based on approximately 200 sewing business development projects and 11 sewing workshops were fit with 80 units of modern equipment. During the third (final) stage, workshops were launched on the basis of real market orders.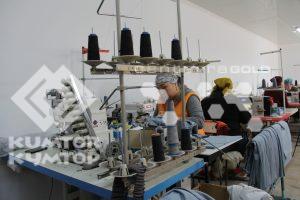 The project put in place in Ton and Jety-Oguz villages has provided 60 new jobs and enabled dozens of families to reject their labor migration plans. Henceforth, they will not have to leave for distant countries in search of work. It is available in their home village! The seamers began to produce more goods and get regular well-paid orders. At present, Issyk-Kul seamers produce clothes mainly for Russian customers. The women's self-confidence increased as they get orders months in advance. For example, the profitability of a Kara-Koo workshop in Ton district employing 11 women has increased 4-5-fold.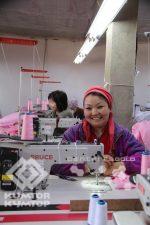 Elmira Ismailova, a workshop owner, remembers: "At the beginning, my three workers and I had to share a small room. Then I expanded my business and hired a further 7 people. Using special equipment, four-thread sewing machines, we are able to meet both quality and speed criteria. We are grateful to Kumtor and its partners for their support! We are working today on another Russian order producing 2,700 standard pattern T-shirts. As soon as the parcel is ironed and packed, we'll take up another order."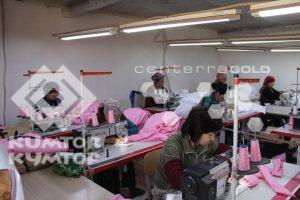 The largest of the 11 Kumtor-supported small businesses operates in the village of Saruu, Jety-Oguz district. This workshop employs 25 people. According to its owner, Jazgul Sayakova, 42, now that they received modern sewing machines they not only have provided themselves with permanent all-the-year-round work but also were enabled to distribute their own orders to individual seamers working in the distant villages of Kyzyl-Suu and Tamga. The Saruu workshop makes women's clothing for Russian export: dresses and blouses. Their customers are satisfied with the quality of the workshop's production. Previously, they would make 1,000 articles at the most per month compared to over 3,000 they make now using modern equipment. After expanding her business, Jazgul picked up 7 apprentices and wants them to continue working in her workshop following their training.
"We have a firm footing thanks to Kumtor. Today, we know for sure we won't have to go begging," Jazgul Sayakova, a local business woman, says thanking the investor for its support.