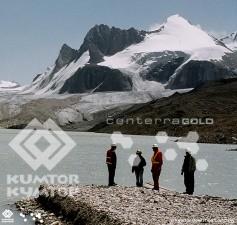 During April, 2012, the Kumtor mine site was visited by Prizma LLC, an independent Canadian Consulting firm, specializing in the evaluation of environmental and social impacts of business activities. Mehrdad Nazari and Don Proebstel the lead consultants visited the Kumtor mine site to provide an independent evaluation of the Mine's activities.
In February 2012, a roundtable was conducted to discuss the compliance of the Kumtor Mine, to current Kyrgyz Legislation, with the participation of the KR First Vice Prime Minister, Aaly Karashev. This workshop was held in Bishkek, where the Interdepartmental Government Commission presented its report on the evaluation of compliance of the Kumtor Mine with requirements of the relevant environmental and operational safety legislation. The report was also presented to the Parliament of the Kyrgyz Republic. In addition during January and February 2012, a non-governmental organization, the CEE Bankwatch Network, distributed conclusions of the Interdepartmental Government Commission, in addition to comments, compiled by the Hydrogeologist and Geochemist, Robert Moran
The outcomes of the Interdepartmental Government Commission report, and the critical comments related to the operations of the "Kumtor Operating Company" CJSC (KOC) ascribed to Dr. Moran, caused the shareholders of Centerra Gold Inc, to request that independent experts be retained to evaluate these critical findings.
Prizma reviewed all the available information and provided recommendations relating to Kumtor's transparency, water quality, biodiversity, glacier impact, Petrov Lake, and current mine closure plans.
Based on the results of their work, Prizma provided a report and a set of recommendations, which were sent to the President and Prime Minister of the Kyrgyz Republic, the Jogorku Kenesh of the Kyrgyz Republic, regulatory authorities, and other interested parties.
For information:
Dr. Proebstel's professional experience spans 25 years. This includes positions as a Senior Environmental and Social Analyst with the Overseas Private Investment Corporation (OPIC), Market Analyst with Pike Research, Vice-President Environmental and Sustainability at Gold Reserve Inc., a junior mining company, Senior Environmental & Biodiversity Consultant with AATA International, an environmental consultancy, Director of the World Salmonid Research Institute, working closely with the Russian Academy of Sciences, the Moscow State University and the Wild Salmon Center. Don is currently a scientific advisor to Natural Power Concepts, a Hawaii based renewable energy technology developer, and contributes to a case which is before the World Bank's International Centre for Settlement of Investment Disputes (ICSID). Dr. Proebstel holds a BS in Fishery and Wildlife Biology and a PhD in Conservation Biology from Colorado State University.
Mr. Nazari has over 20 years of professional experience. He serves as an Expert Witness on an international arbitration case before the World Bank's ICSID in Washington DC. He was also an Expert Panel Member advising the Compliance Advisor Ombudsman (CAO) office of the International Finance Corporation (IFC) on an extractive project that required an assessment of IFC's compliance with its policies and procedures. Previously, Mehrdad served as a Principal Environmental Specialist at the European Bank (EBRD, until 2003), conducting environmental and social appraisal, and monitoring of investment projects. This included also the Kumtor operation. Mehrdad was also Head of CSR Research at CoreRatings, London (formerly part of Fitch, now DNV), which provided services to asset managers and pension funds; and Project Manager with Dames & Moore (now URS), a leading environmental and engineering consulting firm. Mr. Nazari obtained his academic training in Germany, the UK and the USA (Fulbright grantee), focusing on geosciences, business administration, and sustainable development. He holds an undergraduate degree in Mineralogy (geochemistry) from JW Goethe University in Frankfurt, Germany; a Masters degree in Hydrogeology from University of Birmingham, UK; and an MBA degree from Henley Business School in the UK. He is also a Fellow of Rockefeller Foundation's Leadership for Environment & Development (LEAD) program, a licensed Sustainability Reporting Assurance Provider, and assists companies with their stakeholder engagement and sustainability reporting.
The main findings and recommendations of the Prizma Report on Compliance to the Environmental and Industrial Safety Standards at the Kumtor Gold Mine (hereinafter referred to as Prizma's Independent Assessment) are as follows:
1. Site access and transparency:

Prizma's Independent Assessment describes KOC to be following good international practices with respect to public disclosure of information through the detailed Annual Environmental Report, adoption of the Global Reporting Initiative, and the Extractive Industry Transparency Initiative. Prizma also noted that the Kumtor Mine is subject to approximately 25-30 annual site visits by KR regulatory agencies, international auditors and consultants.
Prizma recommends examining opportunities to expand community-supported monitoring, reporting, assurance processes, and exploring additional avenues to further support KOC's commitment to transparency.
2. Water quality (including arsenic and cyanide):

Prizma's Independent Assessment did not identify concerns related to arsenic in Petrov Lake or concerns about handling and management of cyanide.
Prizma provided several recommendations including the addition of hydrocarbon analysis in the sampling program, completing the certification of Kumtor's operation and transport of Cyanide, by the International Cyanide Management Institute, and investigation of the necessity of incorporating additional options for avoiding, reducing or mitigating long term water quality impacts relating to elevated sulphate levels.
3. Biodiversity issues:

Prizma's Independent Assessment highlighted Kumtor's history and track record of supporting biodiversity conservation and the Sary-Chat Ertash Nature Zapovednik . Prizma attributed the Commission's concerns (and that of other groups, such as non-governmental organizations) to inaccurate maps that contain land designations (such as "Buffer Zones") which are inconsistent with the KR Government Decree #76 of March 10, 1995, that established the Zapovednik.
Prizma recommended that Kumtor engage with relevant government agencies and other stakeholders to clarify Government decreed boundaries; define the real biodiversity conservation areas, separate from the current mining and exploration areas, and development of Biodiversity Action Plans, as needed.
4. Glaciers and water consumption:

Based on the KR's own Communication to the United Nations Framework Convention on Climate Change (UNFCCC) and other literature, Prizma's Independent Assessment confirmed that Climate Change impacts are the main drivers of the reduction (ablation) of glaciers across the KR. These impacts can also be observed near the Kumtor mine but are largely independent of mining activity. By quantitatively evaluating the effects of the mine on both glaciers and water consumption Prizma showed Kumtor's impacts to be insignificant and demonstrated that related statements in Dr. Moran's comments, cited also by the Commission, to be without scientific merit.
5. Geotechnical issues and the Petrov Lake Moraine Dam:

Prizma's Independent Assessment examined a large body of studies and recommendations by regional experts, international coalitions, and engineering consultants regarding the Petrov Lake natural moraine dam. Prizma found that the concerns of impacts of a lake outburst flood to the Tailings Management Facility (TMF) would be naturally mitigated by two factors: first, the elevation of the TMF with respect to the natural Kumtor River channel, that would accommodate and direct a lake outburst flood, and secondly the presence of a natural berm between Petrov Lake and the TMF. In addition, Kumtor had been reviewing recommendations provided by engineers to further strengthen the Shear Key structure that would make it less vulnerable to erosion in the case of a major lake outburst flood event. Prizma also recommended that Kumtor consider reducing the Petrov Lake water level, provide interim updates, and inform interested parties about progress in dealing with its geotechnical issues on a more frequent time table, including those related to the Petrov Lake's natural moraine dam.
6. Mine closure issues:

Prizma's Independent Assessment evaluated several issues pertaining to mine closure, including concerns regarding adequate funding, general planning and capacity, in addition to specific issues relating to post closure environmental parameters. The review concluded that Kumtor's approach to closure is consistent with international practice, has an ongoing and regularly updated Conceptual Closure Plan (CCP) that estimates closure costs at $30 million, recently inflated by Kumtor to $37 million to account for costs by the year 2021. The review recommended that Kumtor should further consider specific water quality issues related to sulphate levels. In addition, Prizma recommended that Kumtor include social and biodiversity aspects in future closure plans.
Kumtor is currently reviewing Prizma's recommendations and their implementation. KOC intends to continue cooperation with all interested Ministries and Authorities of the Kyrgyz Republic to review and address any other concerns associated with activities of the Kumtor mine.
Full text of Prizma Report is available here.
For further information please contact Media Relations, KOC