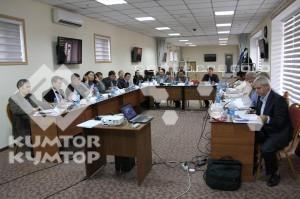 A seminar on the development of the biodiversity management strategy around Kumtor mine in Jety-Oguz district of Issyk-Kul region was held on October 19, 2012 in Bishkek. The main goal of the seminar was to provide participants with basic provisions of the Strategy and discuss them with experts.
The meeting was attended by representatives from the State Agency for Environment and Forestry, the Sarychat Ertash Nature Reserve, the Naryn Nature Reserve, Kyrgyz biodiversity experts, conservation NGOs, such as Flora and Fauna International-Kyrgyzstan and NABU-Kyrgyzstan, and representatives from the Company.
The seminar was attended by representatives of the State Agency of Environment and Forestry, workers of Sarychat-Ertash and Naryn State Reserves, experts of the Kyrgyz Republic in the field of biodiversity, members of environmental non-governmental organizations such as the "Flora and Fauna International-Kyrgyzstan" and "NABU-Kyrgyzstan" as well as representatives of the company. The meeting was facilitated by Prizma LLC, a US-based ESIA and CSR Advisory Practice.
The meeting was opened by Professor Emil Shukurov, Founder and Director of ecological movement of "Aleyne", and Editor of Kyrgyzstan's "Red Book" of endangered species.
He noted that systematic approach plays important role in the Strategy. "I have lots of suggestions on how to implement the idea. It would be great if microreserves would operate in the region, and some ecological trails would be conducted, and green guards and patrols would be formed. All these steps are very important for biodiversity conservation in the Kyrgyz Republic, in particular, in terms of interaction with the mining industry".
"Kumtor is committed to biodiversity conservation and this workshop identified collaboration opportunities in support of biodiversity conservation in Kyrgyzstan," said Michael Fisher, President of KOC. Kumtor is expecting to generate its Biodiversity Management Strategy and Plan by year end. As part of this, Kumtor is expecting to make financial commitments in support of priority programs which will also be announced at that time.