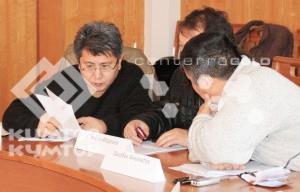 On December 28, 2011 in the town of Karakol, the Governor of Issyk-Kul region, members of District Councils, representatives of the nongovernmental sector, management of Capital Construction Department took part in a meeting of the Supervisory Board of the Issyk-Kul Region Development Fund, where they summarized the work of the Fund in 2011 and approved funding for major projects in 2012. The meeting of the Supervisory Board was also attended by representatives of "Kumtor Operating Company", the public and journalists.
Total of 304 projects, amounting in more than $636 million soms were funded in 2011. The funds were invested in the construction and repair of buildings of education, health, culture and sports spheres. Financial support was also received by local government – funds have been allocated to reconstruction and development of regional infrastructure: repair of roads, water systems, landscaping, organization of public events, and purchase of agricultural machinery. In particular, at the expense of funds allocated by the Fund in 2011, overhaul of 15 social facilities were repaired, nine schools, six sports halls, three obstetric stations and a kindergarten were built.
Members of the Supervisory Board discussed the development vector in 2012, taking into account the law, approved this year by the Government of the Kyrgyz Republic "On the Development Fund of Issyk-Kul region". The participants agreed that the priority of the Fund should be in supporting sustainable projects that will aim to develop the regional economy.
"It's hard to imagine what it would be with our region now, if we do not have Development Fund and, if "Kumtor" would stop operating. In the past year much attention was paid to support of social projects. However, next year we should pay more attention to sustainable projects that can be profitable and replenish the regional budget", – Governor of Issyk-Kul region, Mirbek Asanakunov, said at a meeting of the Supervisory Board.
Journalists visited a number of facilities that are being built or already built, financed by the Fund: Among them were: hospitals in Cholpon-Ata and in Ananyevo village, a cultural center and school in the village Kurmenty, school in the village of Oi-Tal in Tup region.
For more information, please, contact Media Relations.