As disclosed in January 2021, a waste sorting plant has been put into operation in the city of Balykchi largely due to the support of Kumtor Gold Company which contributed approximately 5.5 million soms for purchasing waste sorting equipment from Russia. The project is implemented by Improvement and Sanitation, the municipal service operating at the Balykchi city administration.
The waste sorting complex is operating at full capacity. Annually, up to 23,000 cubic meters of waste is removed to the landfill of Balykchi, a city of more than 40,000 people. The plant is operated by seven employees, including the landfill director. It deals with plastic, cardboard, metal and glass waste. Its working hours stretch from 8 a.m. to 5 p.m. The team being contract workers, their salaries depend on the amount of the job done. Whatever, seven people, at least, are regularly paid. The plant's daily throughput is up to 2 tonnes of waste, the amount growing to 4-5 tonnes in the summer. Up to 40% of solid household waste can be processed by the plant.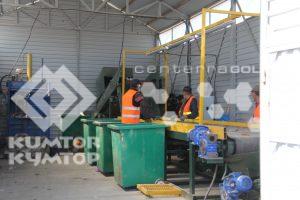 Next to the main workshop, which houses sorting and packing equipment, are two containers, in one of which employees take meals and have a rest while in the other they stockpile finished compressed products. A bid for the right to purchase compressed waste was won by a Bishkek-based company, Plastic.KG.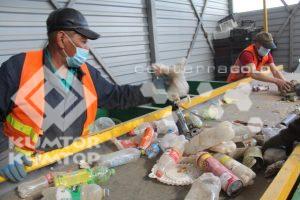 Under the project, plastic bottle collection bins were installed by municipal services responsible for city improvement. The people's awareness growing, waste has come to be sorted. Children are also taught that environment must be treated carefully. Special containers have appeared in Balykchi schools and kindergartens for collecting paper and plastic waste.
"Thus, thanks to Kumtor's contribution, the city is going to grow cleaner, the environmental status of Lake Issyk-Kul is expected to improve so that our people can live in a clearer world," says Kylychbek Azidov, the landfill director.