Tien Shan spruces have decorated the alley within the grounds of the Bishkek boarding school No.1 named after A. Kanimetov. The trees were planted by employees of KGC Procurement & Logistics during the tree planting event held on March 23.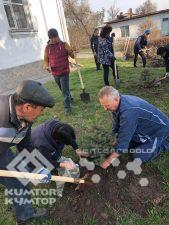 The initiative of Kumtor volunteers was supported by Zelenkhoz municipal enterprise. The land area near one of the school buildings was purposely allotted for tree planting, while the event participants raised funds and purchased seedlings. When spruces grow up, they will create a favorable microclimate here.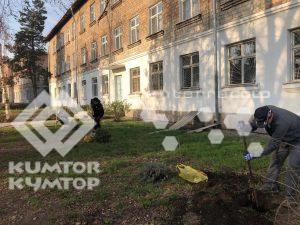 Kumtor volunteers planted 28 Tien Shan spruces. They were brought from a nursery located in the town of Kant. Students of the boarding school will take care of the spruce alley. The school administration assigned particular students to tend each tree. 'We are trying to foster a love for nature, cleanliness and labor in our students. Children will take care of the trees by themselves, they will water them. I can say that they take these duties very seriously and responsibly perform them,' the boarding school director Nurkaly Baimatov said.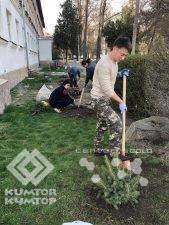 'We hope that our today's action will be continued and supported by the city folk, and thus we will be able to improve the air quality in the city,' the event participants said.
The boarding school No.1 named after A. Kanimetov is one of the oldest educational institutions in Bishkek. It was established in 1956. Around five hundred gifted children from the remote regions of Kyrgyzstan currently study here.