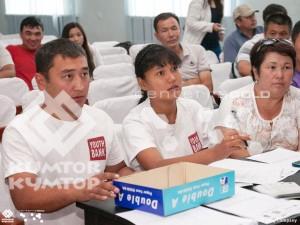 Experts of the Eurasia Fund-Central Asia (EFCA) will provide consultations for young people of the region till July 21. Young people aged 14-28 who have ideas to make a difference in the social development of Issyk-Kul province are encouraged to visit the YouthBank consultation workshops and take part in the innovative project in Kyrgyzstan.
Amount of grant for the implementation of the short-term projects directed to the development of cities and villages of province ranges from $ 500 to $ 1,000.
The YouthBanks Project was launched in the late spring in Issyk-Kul province. At the first stage of the Project the young people learned the basics of working in the YouthBanks network. They also learned how to properly submit and review applications for projects. Idea of the YouthBanks was successfully tested in 26 countries. Now the first stage of receiving and processing applications for projects pretending for implementation is started in 6 localities of Issyk-Kul province: Karakol, Balykchy, Bokonbayevo, Tamga, Tiup and Kyzyl-Suu.
Project is implemented by the Eurasia Fund-Central Asia with the financial support of Kumtor Company.