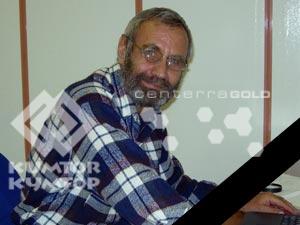 The heart of this remarkable person and highly qualified specialist, Candidate of Science (Technology), head of the Laboratory of Mathematical and Cartographic Modeling of Natural Processes at the Institute of Water and Hydropower Problems, National Academy of Sciences of the Kyrgyz Republic, has stopped beating.
Valery Andreyevitch, the author of 87 research papers, was an expert of the highest profile in the field of glaciology, who made great contribution to the studies of the aquatic ecology of the high mountain areas of Kyrgyzstan by applying a unique methodology of mathematical and cartographic modeling.
V.A. Kuzmichenok has provided great support for the development of the Kumtor mine. From the very start, Valery Andreyevitch has been the Company's consultant in studying the status of glaciers while mining operations and efforts towards the development of the Project have been built on his research.
The departure of Valery Andreyevitch is an irreparable loss to all of us. His memory is embalmed in the hearts of his numerous friends and co-workers.