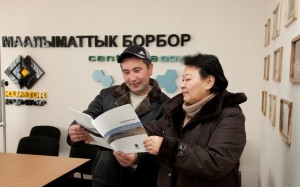 On December 14, 2011 Kumtor Operating Company (KOC) opened its` Regional Information Center for Jety-Oguz and Ton communities at Barskoon, Jety-Oguz district, Issyk-Kul province. The Center's modern-looking, warm and comfortable building is located in the territory of the Volna health-resort just 20 meters away from the Balykchi-Karakol motor-road. Remarkably, the construction work was totally done by a Barskoon-based contractor.
The purpose of Regional Information Center is to provide trustworthy information about KOC for the local residents. Reports and publications concerning the Issyk-Kul Development Fund will be available there. Also, KOC's hiring procedures, human-resources policy and vacancy information can be found at Regional Information Center. The Center officers are planning a series of trainings for the local residents about advanced farming methods, as well as consultations regarding sustainable development projects. All services to be furnished by the Center will be free of charge.
Attending the official opening ceremony were Bakyt Ryspayev, acting Head of the Ton District Administration, representatives of the Jety-Oguz District Administration, Andrey Sazanov, KOC Vice President for Government and Public Relations, as well as Jety-Oguz and Ton residents.
"The opening of this Center is another important step towards improving our intercourse with the local communities and increasing transparency of the Company. Now, the villagers will not have to travel to Karakol or Bishkek to fill in employment forms. Also, the Center will help them to evaluate Kumtor's contribution to the development of their region and get answers to their questions," said Andrey Sazanov, KOC Vice President for Government and Public Relations, as he spoke at the opening ceremony.