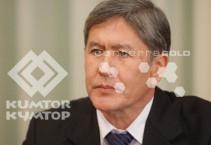 On August 30, 2011, Prime Minister of the Kyrgyz Republic Almazbek Atambayev met with the President of Centerra Gold Inc., the company that is developing the Kumtor gold deposit in Issyk-Kul oblast.
During the meeting, the Company's President, Stephen Lang, informed the head of the Kyrgyz government about the decision of the company's Board of Directors to allocate $10 million in support of new school construction program in Kyrgyzstan. The Company is to allocate the funds within one month. Also, he said a representative of Kyrgyzstan would be appointed as a Vice President of Centerra Gold Inc. in the coming days.
Almazbek Atambayev noted that such support for socially important projects in Kyrgyzstan would improve the company's image in this country, especially with the people of Kyrgyzstan being the company's shareholder.
Also, the Prime Minister underscored the Kyrgyz Government's commitment to deal with the mining companies transparently and honestly so as to make their investment beneficial to the nation at large and safe.
In addition, the parties agreed that the company would increase its payments to the Social Fund. The relevant agreement will also be signed soon.
Summarizing the results of the meeting, Almazbek Atambayev pointed out the importance of cooperation between Kyrgyzstan and Centerra Gold Inc that is developing this country's largest gold deposit for the benefit of the nation, and came out in support of the company's efforts to boost the country's mining sector and bring more investment to Kyrgyzstan.
Special mention should be made of the Kyrgyz government's efforts due to which the number of the Company's Directors representing Kyrgyzstan will be increased from 2 to 3 persons.
The State Web-Portal www.gov.kg 
Photo RIA Novosti ©