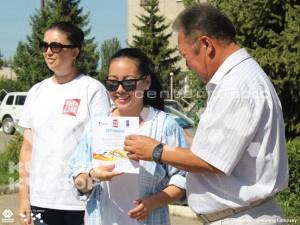 Results have been summed up as regards the first competition of small grant applications under the Issyk-Kul Youth Banks Project currently implemented by Eurasia Foundation of Central Asia with the financial support of Kumtor Operating Company. More than 40 best project applications have been selected to address the communities' social problems. A total of 80 applications were submitted for various projects including the improvement of infrastructures in cities and villages, promotion of healthy life styles, sports and culture.
The following projects have been selected:
• placement of refuse bins in the territory of the park, hospital and polyclinic in Balykchi;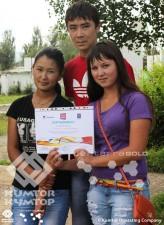 • renovation of benches in public places in Karakol;
• environmental education and promotion of environment-friendly mentality; local residents will be invited to exchange 7 plastic bottles and 10 plastic bags for one fabric "eco-bag";
• handicraft training;
• purchase of books for libraries of educational institutions;
• providing schools with requisite equipment and sports uniform;
• bridge renovation;
• refuse disposal at beaches;
• infrastructure renovation in communities, etc.
Phase Two will take place this fall where new ideas advanced by Issyk-Kul young people will be selected and supported.
This competition involves young people aged 14-28 living in Karakol, Balykchi, Tiup, Bokonbayevo, Tamga and Kyzyl-Suu. Both individual and collective applications were admitted while the project budget was to be under US $1,000. The full list of applications selected is available here.
"Thanks to Kumtor Company, the youth bank idea is getting rather popular across the Issyk-Kul region. I'm calling on young people to take active part in the work of youth banks and submit applications to the competition. All your ideas will be carefully considered, and the best of them supported," said Dinara Musabekova, Executive Director, Eurasia Foundation of Central Asia.