The third annual apricot festival 'Oruk Fest-2018' took place at Ak-Terek village of Jeti-Oguz region, Issyk-Kul oblast, on July 28, 2018. The event was organized as part of the project 'Expansion of Economic Opportunities for Rural Youth of Issyk-Kul Oblast' implemented by non-governmental foundation 'FSDS' (Fair and Sustainable Development Solutions) with the financial support of Kumtor Gold Company.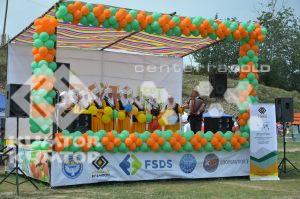 Festival goals include joining efforts of Jeti-Oguz villages to popularize the Issyk-Kul apricot; assistance in attracting investments for the development of fruit and berry production; as well as promotion of environmental values and development of tourism in the region.
The festival has become a central event of the summer for Issyk-Kul oblast, having brought together local gardeners, cooker specialists, entrepreneurs and agricultural processors. Very informative workshops and master classes have been organized within the festival framework, as well as the exhibition of achievements of apricot-growing villages and competitions for the best apricot product. Guests of the festival had the opportunity to listen to the performances of Kyrgyz pop stars and local singers, purchase local production and take part in the social events and flash mobs.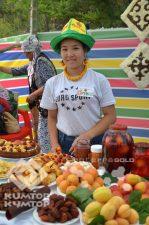 "Such large-scale events help to promote the local fruit and berry production and develop the tourism industry on the southern coast of Issyk-Kul Lake. We believe that the rural entrepreneurship development is an efficient way to combat poverty and support social and economic development in the region," FSDS Executive Director Muratbek Ismailov noted.
"Kumtor Gold Company is ready to support business initiatives aimed at developing entrepreneurial skills among the local youth. We hope that the festival will provide an additional opportunity for farmers and gardeners to develop their households and diversify market outlets," said Aktilek Tungatarov, KGC Sustainable Development Director.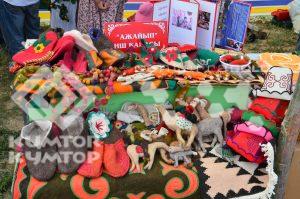 For information:
The FSDS and KGC joint project entitled 'Expansion of Economic Opportunities for Rural Youth of Issyk-Kul Oblast' is aimed at improving the living conditions of rural youth and young families of Ton and Jeti-Oguz regions by supporting their economic activities. The project covers Kun-Chygysh and Ton villages of Ton region, as well as Barskoon, Tosor and Darkhan villages of Jeti-Oguz region of Issyk-Kul oblast. Since the beginning of the project implementation in 2016, 59 young people have been trained and acquired skills in writing business proposals. An independent expert commission consisting of international financial organizations, project donors and business associations studied applications and selected ten business initiatives for their further implementation under the KGC and FSDS joint project. Aimed at supporting and expanding economic opportunities for rural youth in Jeti-Oguz and Ton regions, the project provides support for young entrepreneurs through upgrading or purchasing the necessary equipment for their businesses, improving the infrastructure, providing consulting services and organizing trainings for them.