A delivery ceremony for the new bulldozer took place at the Ton district administration, Issyk-Kul oblast, on April 6, 2020. The Russian-made heavy equipment was purchased as part of Kumtor Gold Company's regional cooperation program. The company has provided almost KGS 9 million from its budget for the purchase of the bulldozer.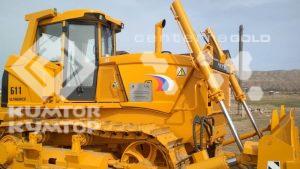 This bulldozer will be used for earthmoving works during the rehabilitation of pastures, and to prevent or eliminate the consequences of emergencies in Ton district.
The bulldozer's specification was chosen by the road and operational department of Ton district and agreed upon with the Ton district administration. The bulldozer will be on the books of the municipal joint venture "Ton District Development Agency", which assumes responsibilities of its further full maintenance (fuel, repairs, spare parts, wages of operators, etc.).
First Deputy Head of the Ton District Administration Timur Alymbekov said, "We are very grateful to Kumtor Gold Company for such a needful gift. It will really help the local residents. Rehabilitation of pastures provides local farmers and herders with an access to remote pastures to prevent the degradation of pastures in the immediate vicinity of the lake."