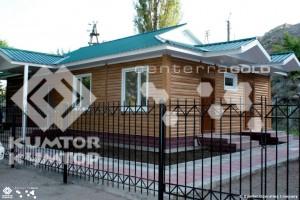 As part of a joint project designed to get southern Issyk-Kul communities involved in private business, Kumtor Operating Company (KOC) and the One Village One Product Association will hold business-planning seminars for Ton and Jety-Oguz residents on October 15-16, 2012.
These seminars will help its participants learn the essentials of financial management, including working capital one, and its analysis. The purpose of the joint project is to unite private business and community efforts for the development of the region's economic potential through production based on local resources. More than sixty project participants have been involved in the production of jams and juices so far. Their produce will be offered for sale both in the region and Bishkek one of these months. The project will continue until late March 2013 to cover 20 villages and about 30 communities.
The Association "One Village One Product" (OVOP) was organized in the Issyk-Kul region at the initiative of local producers as part of the OVOP project, which is being implemented by the provincial administration with the support of the Japan International Cooperation Agency (JICA) and KOC. Any community or individual may join OVOP. The OVOP members are engaged in the production of unique goods by using accessible resources.