Some of our stakeholders may be surprised to learn that nearly 600 Kyrgyz enterprises supply our operations with almost 11,000 items needed for our day-to-day operations.
The level of interest from local suppliers seeking to deal with Kumtor is on the increase. However, many suppliers copy successful ideas of other suppliers, and in doing so, try to displace current suppliers. We support existing and potential local suppliers to help them overcome these barriers. We encourage local businesses and entrepreneurs to think 'outside the box' and come up with new ideas, products, and services. In doing so, their business will be more sustainable and will create jobs and opportunities for the local community.
As examples of such co-operation, we highlight three case studies (and detailed further on our social media sites), ranging from a farm supplying eggs for the mine camp, to a clothing manufacturer of PPE, and to steel grinding balls produced locally for our mills to process the ore and extract the gold.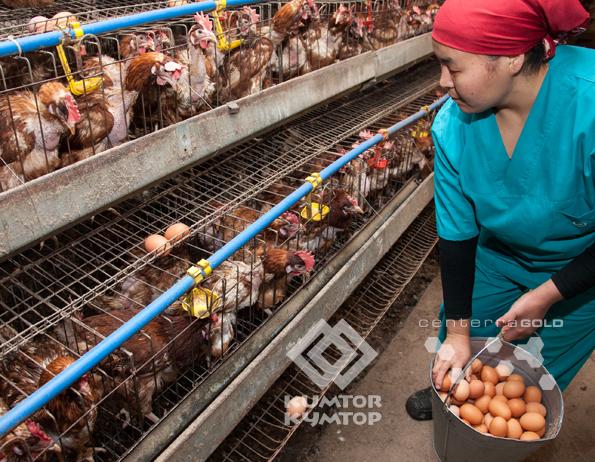 Supplier of Eggs
The Kumtor mine maintains a high altitude mine camp for approximately 1500 workers (on site at any one time)operating around the clock. Kumtor's operation is situated at 4,000m above sea level with temperatures ranging from +15 °C to -38 °C. The workers need abundant, nutritious, quality food to keep them going in what is often physical work in challenging conditions. 100 percent of food for the mine site is purchased from companies within the Kyrgyz Republic. Eggs, an important staple food, are supplied by local Farming, a business based in Chuy Province, and run by an enthusiastic entrepreneurial farmer. Following the collapse of the Soviet collective farming system, a group of farmers established a new farming business in 2001. The farm started with seven employees, producing 400,000 eggs a year from 1,000 chickens. This Farm secured Kumtor's business in 2005.
The owner said:
We feel our business is a part of the Kumtor project, and we are proud of that. Kumtor is an excellent customer, paying our invoices in as little as five days"
Two years ago the Farm started to expand and diversify its customer base with new customers now representing 50% of its business. This has allowed the farm to expand to 12,000 chickens producing 3 million eggs per year, and employing 20 workers on average. The farm also grows its own chicken feed on approximately 500 hectares of land leased from about 100 families, and thus passing on some of the economic benefit.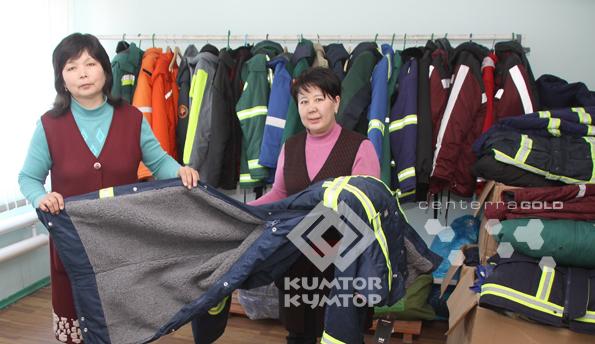 Supplier of safety clothing
Our approximately 2,700 workers at Kumtor need safety garments suitable for the challenging climatic conditions and working environment, ranging from workshop mechanics to kitchen staff. Many of these garments are supplied by local company, based in Karakol (Yssyk-kul district ), and led by female entrepreneur, an alumni of a capacity building program offered by Japan International Cooperation Agency (JICA).
The supplier has demonstrated it can consistently meet our quality, quantity, and safety requirements, becoming a preferred supplier. It was established in 2003, moving into an old Soviet-period factory in 2004. The company now employs approximately 120 people. The supplier finds Kumtor a very desirable and reliable customer. Late payment of invoices is a common problem among both private and public sector businesses in the Kyrgyz Republic. This can be very damaging to small businesses. The owner said: "With many customers, we wait months to be paid following our supply of goods. With Kumtor, we are paid quickly."
She also highlighted that:
A contract with Kumtor is a mark of quality for other potential suppliers.
This has helped the company to expand its customer base, so that other customers now represent 70 percent of its business. The company's success enables it to contribute to the Kyrgyz economy and society in a number of ways.
In addition to providing local employment, it supports sport, youth, deprived communities, and environmental projects. It has received a quality award, and, in January 2014,received a Presidential award for 'benefitting the development of the country.'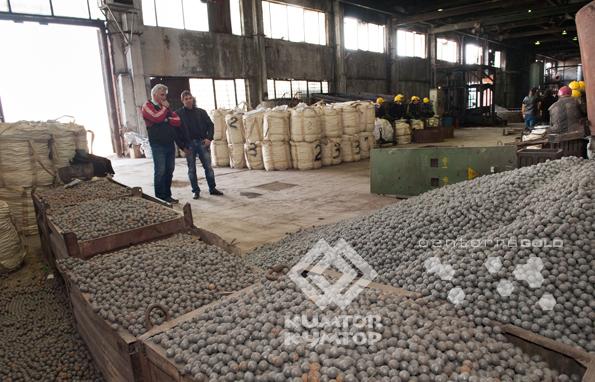 Local Supplier of Grinding Balls
Kumtor needs to crush and mill each year more than 5 million tonnes of ore to fine sand to be able to liberate and process the fine gold contained in the ore. This requires the use of 8,000
tonnes of steel balls used in Kumtor's ball mills. These steel balls are an essential consumable and must meet defined specifications of hardness, chemical composition, shape, and size.
Until 2012, virtually all of Kumtor's grinding balls were procured internationally.
A local company was established in 2012 with the primary purpose of supplying Kumtor with a portion of its grinding balls. Kumtor purchased approximately 4283,96 tons of grinding balls by the end of 2014. This is a clear demonstration of our commitment to supporting and encouraging local procurement. The company employs approximately 120 workers.