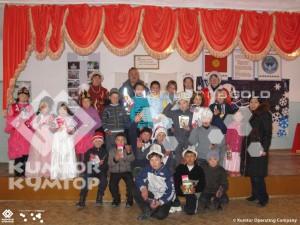 In early December the Kumtor mine employees were informed about a fund-raising campaign designed to purchase warm clothes for orphans. In less than one month's time they could raise 174,810 soms.
On December 25, 2012, a group of mine employees visited the Khaji-Say-based "Khadicha" orphanage to congratulate its inmates on the coming New Year. Apart from gifts, the children received warm winter shoes, socks, pantyhoses, pullovers, stationery, hairpins, etc. At the request of the orphanage's director, 15,000 soms was contributed in payment for electricity. Also, the Company has granted two trucks of firewood. In addition, the mine employees made sure that the equipment previously purchased by KOC for the orphanage was effectively used for the benefit of the children.
The inmates of other Issyk-Kul children's homes will be cared for, either. The mine representatives are planning to visit the Balykchi-based orphanage "The Tien-Shan Children" tomorrow as well as the Kelechek children' home and the Archa Disabled Children's Center at Kyzyl-Suu this Saturday.