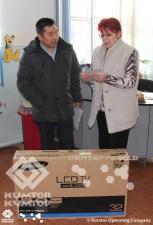 On the eve of the International Day of People with Disabilities Kumtor Operating Company received a lot of letters from various organizations that unite and engage with people with disabilities. This year the Company has decided to allocate additional funds to provide targeted assistance by purchasing one thousand warm blankets and other essential household items.
On December 6, 2012 the Company's employees visited the Rehabilitation Centre Umut-Nadejda and handed over 50 blankets and 4 heaters to educatees. Earlier, 200 blankets were delivered to the Kyrgyz Republican Society of People with Disabilities. TV set and a DVD-player were presented to the Speech Pathology Department of the National Centre for Mental Health for use in work with children suffering from speech disorders, cerebral palsy, and autism.
750 blankets were sent to the Issyk-Kul province and will be passed to organizations that work with people with disabilities: Issyk-Kul and Naryn Society for the Blind and Deaf, Ak-Suu Female Neuropsychiatric Retirement Home, the Community of disabled children of Balykchi, and KOC Regional Information Centers for the distribution to persons with disabilities together with the local authorities.
"Holding a charity campaign dedicated to the International Day of People with Disabilities has become a good tradition for us. We are glad to have the opportunity to help people with disabilities, including children with disabilities, as they relate to one of the most disadvantaged and marginalized groups of citizens, so any help is important to them", – said Douglas Grier, KOC Sustainable Development Director.