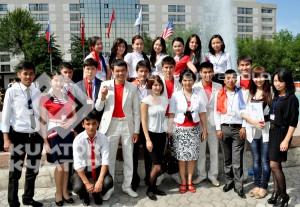 SIFE – Kyrgyzstan 2012 Award Ceremony was held on May 29. A total number of 13 participant teams from Bishkek, Osh and Djalal-Abad took part in SIFE-2012 Championship.
SIFE teams from different universities of Kyrgyzstan competed for the title of National Champion and the opportunity to represent our country at SIFE World Cup 2012 this fall in Washington D.C., USA along with the National Champions from around the world.
Four SIFE teams reached the Final Round of Competition: American University of Central Asia (AUCA), Bishkek Academy of Finance and Economics (BAFE), Osh State University SIFE Team (OshSU) and Institute for Integration of International Educational Programs (IIIEP).
The Champion's Trophy was given to the SIFE BAFE team, who presented to the panel of Judges a comprehensive program aimed to improve the quality of life and standard of living in the Djany-Pakhta village. Vice-Champion team became SIFE IIIEP that presented three projects, one of which was directed on the waste-free production of textile goods. The SIFE team of Osh State University took 3rd Place, and was remembered by Judges with one of their projects, where the business concepts were directly applied in order to improve the ecology of their community.
Panel of judges consisted of 15 representatives from partner companies and organizations of SIFE in Kyrgyzstan. Kumtor Operating Company became a Diamond Partner of the event. This year SIFE Championship was also supported by Coca-Cola Bishkek Bottlers, Microfinance company Mol Bulak Finance, Official Representative of Samsung Electronics in Kyrgyzstan, KPMG Bishkek , RCT ltd., Azimbaev, Umraliev & Associates, Club Hotel Dostuk, Silk Road Investments, and Kalikova & Associates.
The SIFE Competition provides students an opportunity to present their community outreach projects to the panel, where business leaders are judges. Thus, students have an opportunity to show their business skills to potential employers and business partners.
For information:
SIFE – Students in Free Enterprise – The World's Premier, cross generational international Business and Higher education network. Working in partnership with business and higher education, SIFE mobilizes university students around the world to apply knowledge learned in the classroom to address real world business and economic issues in their communities. SIFE students form teams on their university campuses and develop outreach projects that focus on improving the quality of life and standard of living for people in need through the positive power of business. The activities of SIFE teams can range from helping small business owners operate more successfully to assisting unemployed individuals develop the skills necessary to find productive employment.
SIFE Worldwide is now operating in 39 countries with more than 1800 active university SIFE Teams. Twenty eight universities with more than 500 students are the members of SIFE Program in Kyrgyzstan.