Kumtor Mine Rescue Team Took Part in the Republican Mine-Rescue Competition
The 16th Annual Mine-Rescue Competition was held at the training ground of the Ministry of Emergency Situations of the Kyrgyz Republic on October 15, 2016. Mine-Rescue Competition is held annually by the Ministry of Emergency Situations with the support and participation of Kumtor Gold Company.
This year, five mine-rescue teams, representing Kyrgyzaltyn JSC, the Ministry of Emergency Situations of the Kyrgyz Republic and Kumtor Gold Company (Kumtor-1, Kumtor-3 and Balykchy KGC) took part in the competition and showed their readiness to respond to various emergency scenarios including earthquake, chemical disaster control and rescue operations in a high-rise building.
The mine-rescue team of the Ministry of Emergency Situations gained the lead in the competition. Kumtor-1 took a second place and the mine-rescue team from KGC Marshalling Yard in Balykchy came third. At the end of the competition, the three winning teams were awarded with winners' cups and pennants, while all the participants received special gifts.
Kumtor's mine-rescue teams have once again proved themselves to be highly skilled professionals, who are always ready to come to the rescue. Recall that all three mine-rescue teams of Kumtor Gold Company consist of volunteers, who regularly undergo training at the Kumtor Mine and have the Government-approved rescue certificates.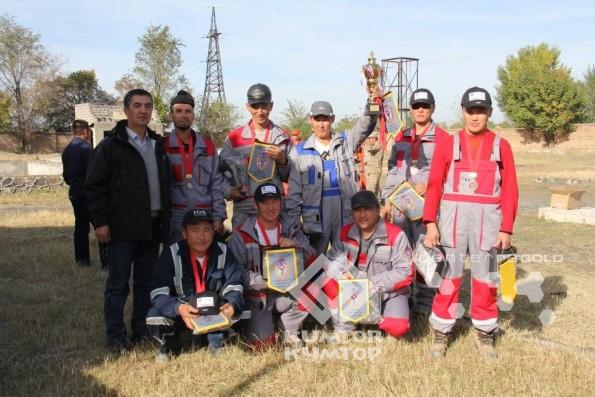 Posted: October 18, 2016
Share