On May 29, 2016, a group of Kumtor employees organized a charity delivery of gifts for the old people at the Kara-Balta nursing home.
Previously, more than 30 thousands soms were raised to purchase foods, clothes, bedding, detergents and personal hygiene products.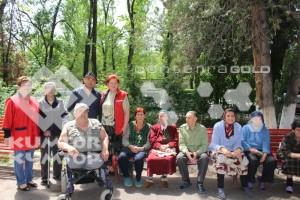 It should be noted that most of these people are former employees of the Kara-Balta Mining Plant who, for various reasons, were left uncared-for in their old age.
Participating in this charity event were Kanybek Jumaliev, Mokeev Tynchtyk, Ryspaev Nuradil, Otogonova Anara, Oskoeva Nazgul, Gavrilova Marina, Abdykerimov Aziret, Samsakov Djumabek, Talaibek Dzhusupov, Elena Evseyeva, Ivanov Vladimir, Karymshakov Talaibek, Rustam Momunaliev, Duishembiev Tugol, Eshmukambetov Kurmanbek, Shamyrbaev Daniyar, Konstantin Kurmaev, S.Bulgakov, Andrey Kudashev, Firsov Aleksey and others.