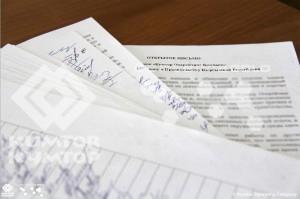 To:
A. Atambaev, President of the Kyrgyz Republic
J. Satybaldiev, Prime Minister of the Kyrgyz Republc
Members of the Supreme Council of the Kyrgyz Republic
From:
Employee of Kumtor Operating Company (KOC)
Address

We, employees of the Kumtor mine, our families and relatives, are extremely outraged with the fact that a small group of people, violating the Kyrgyz Republic Law, have blocked the road to the Kumtor mine. This group, by blocking the road, harms production as well as the economy of Kyrgyzstan on the whole. If the protestors have any requirements towards KOC, they should submit those through the KR Government, which should then decide whether these requirements are appropriate to satisfy by negotiating with the company management.
Such unlawful actions have happened repeatedly during the course of the company's operation. In all road blockage cases the company resolved the conflict by negotiating with local resident on its own. In the past, the government wouldn't take any action to ensure public order. We are facing indecision of the government once again in this kind of situation. We, the KOC employees, totaling 3000 people, provide support for no less than 10 people each. We are the citizens of the KR, having certain constitutional rights, including the right to work and rest, which are being violated in the most illegal way by a "bunch" of people, who prevent a huge number of company staff from arriving to work and from going home.
We, the citizens of the KR, working at Kumtor mine, urge you to stop this arbitrary behavior and protect our constitutional rights. If state authorities are powerless to do that and to protect our constitutional right, we will have no choice but to fulfill that ourselves. We hope that the Government will not leave our request without due attention and will take urgent measures to resolve this situation.
Employees of Kumtor Operating Company