On the eve of the International Children's Day, employees of Kumtor Gold Company visited the orphanage in Voenno-Antonovka village. Upon prior agreement with the administration of the children's institution, the Kumtor Ambassadors collected money and purchased a table tennis table, volleyball net, balls for football, volleyball and basketball.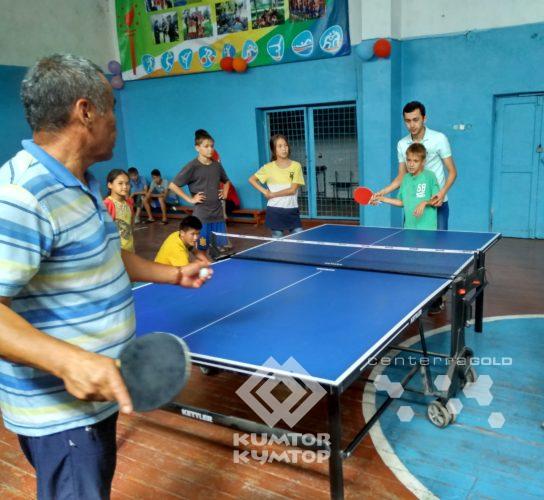 "7-time table tennis champion of Kyrgyzstan, master of sports Alisher Yakupbayev greatly helped us in our effort. He donated 10 rackets and a set of training tennis balls. He and his colleagues, table tennis champion of Kyrgyzstan and master of sports Elina Modabashova and candidate master of sports Abduljan Aytakhunov, came to support the kids and hold master classes for them. Children were very happy to play with the champions and enjoyed playing with them in turn. We are going to continue promoting our project on children's sports development and would like to open several more table tennis clubs at the orphanages of Kara-Balta, Tokmok, Balykchy and Karakol. Given the scale, we will welcome everyone who would like to support our project," the event organizer Kuvanych Kojegulov said.
The following employees took part in the charity event: Nurbek Tolobaev, Kanykey Karymshakova, Nurdin Aibashev, Aibek Abduvaliev, Konstantin Ischenko, Sergey Mironenko, Kuvanych Kozhegulov, Jenish Ismanov, Nuradil Ryspaev, Aziret Abdykerimov, Ben Ferris, Arstan Jooshbaev, Daniyar Kasymaliev and Nurbek Musaev.
It is necessary to mention that employees of all the departments of the Company take an active part in the corporate volunteering program "Ambassadors of Kumtor" and support many children's institutions of the country on a regular basis.