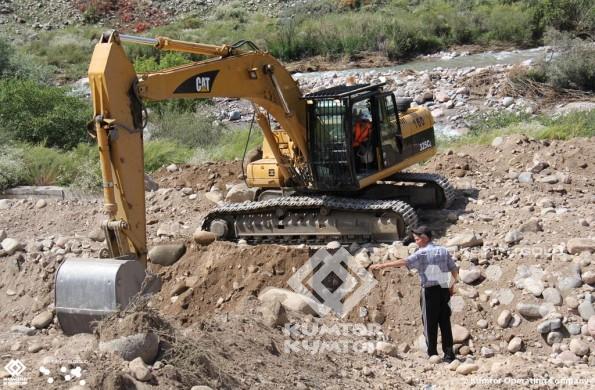 KOC heavy-duty equipment and teams continue disaster clean-up operations at Ton and Jety-Oguz, Issyk-Kul province where torrential rains between August 2 and 5, 2013, caused floods and mud torrents, as previously disclosed. The rough weather left the motor-road at Kesken-Bel and Tosor damaged and the village of Kyzyl-Tuu impounded. Also, partly damaged were bridges, power transmission lines and the Tosor canal supplying irrigation water to 680 households and 1,200 hectares of farmland.
Company Management, in response to requests from Ton and Jety-Oguz district administrations, immediately sent its equipment and workers to the scene to assist in the restoration of motor-roads and cleaning up of waterways. After that, efforts centered on the restoration of the Tosor canal and roads to the summer pastures.
As of today, work has been completed on the Tosor canal where a new 500 m canal was built, a 1 km byroad restored and a new 1.5 km earth-road built. Operations are in progress in the afflicted areas.