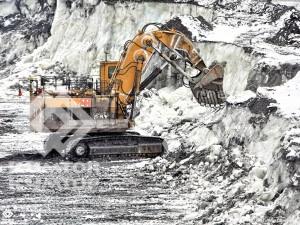 Centerra Gold Inc. (Centerra) and Kumtor Operating Company have summed up the operating results of the 3rd quarter of 2012. During the period between July and September 2012 Kumtor produced 23,786 ounces1 or 739.8 kg of gold. During the first nine months of 2012, the Company produced 125,799 ounces or 3,913 kg of gold and contributed 4.3 billion soms in taxes and mandatory payments.
Gold Production and Sales
At the Kumtor mine, gold production was 23,786 ounces or approximately 740 kg in the third quarter of 2012. The decrease in gold production in the third quarter of 2012 compared to the same period of 2011 is the result of fewer tonnes milled with lower mill head grades (1.78 g/t versus 4.01 g/t) and lower recoveries (75.1% versus 80.2%).
Total tonnes milled for the third quarter of 2012 were 0.58 million tonnes, a decrease of 59% compared to the same period of 2011, as very little ore was mined and the majority of the mill feed processed came from stockpiles. The mill was shut down for seven weeks and during the shutdown, planned and unplanned maintenance was performed.
During the third quarter, the Company continued mine waste from cut-back 14B and continued to unload the ice and waste material from the high movement area. In mid-September ore was accessed in cutback 14B, which resulted in 0.4 million tonnes of ore at a grade of 2.25 g/t being mined during the third quarter of 2012.
Gold sales in the third quarter of 2012 were 26,626 ounces or 828.2 kg.
Total revenues from gold sales in the third quarter of 2012 were $44 million2. The average realized gold price was $1,651 per ounce. For other operating results see Table # 1.
The gold produced by the Kumtor mine, is purchased by Kyrgyzaltyn JSC for processing at its refinery in the Kyrgyz Republic pursuant to a Gold and Silver Sales Agreement signed by KOC, Kyrgyzaltyn and the Government of the Kyrgyz Republic. Kyrgyzaltyn JSC enjoys the exclusive right to sell refined gold and silver both in and outside the Kyrgyz Republic.
Production costs and capital expenditures
Kumtor recorded abnormal mining costs in the third quarter of 2012 resulting from the increased unloading of ice and waste material in the high movement area and the impact of the revised mine plan at its Kumtor operation. The cost of removal of the ice and waste from the high movement area during the third quarter of 2012 was $11.4 million while pre-stripping activities added costs totaling $7.9 million. Total production costs, including amortization and depreciation, in the third quarter of 2012 were $63.3 million
Capital expenditures in the third quarter of 2012 were $78.1 million which includes $13.6 million of sustaining capital predominantly spent on:
– the major overhaul program for heavy duty equipment ($5.6 million);
– the dewatering program ($2.2 million);
– the effluent treatment plant ($2.4 million);
– the tailings dam expansion ($1.4 million);
– the replacement of tractor dozer ($1.4 million);
– other projects ($0.6 million).
Growth capital investment totaling $64.5 million was expended for:
– pre-stripping capitalization ($48.7 million);
– the underground development ($2.6 million);
– purchase of CAT 789 haul trucks ($5.1 million);
– purchase of Hitachi shovels ($6.0 million);
– expanded mine auxiliary equipment ($0.6 million);
– expanded fuel farm ($0.6 million);
– other projects ($0.9 million).
Underground Project
During the third quarter, Kumtor suspended the development work on the underground project and placed the project on care and maintenance while conducting a detailed study on the potential for expanding the limits of the ultimate pit. Subsequent to the third quarter of 2012, a decision was made based on the positive outcome of this study and a new expanded life-of-mine plan was approved for Kumtor with reserves of approximately 10 million ounces of contained gold (see Centerra Gold News Release dated November 7, 2012). The new life-of-mine plan expands the Kumtor mine life by 5 years to 2026 and still maintains the option of underground development at a later date.
Exploration
Exploration activity in the third quarter of 2012 focused on drilling of the Central Pit, underground exploration drilling from Decline#1 and #2, and drilling at Sarytor. Exploration expenditures at Kumtor for the third quarter of 2012 were $3.5 million.
A complete listing of the drill results and supporting maps for the Kumtor pit have been filed on the System for Electronic Document Analysis and Retrieval ('SEDAR') at www.sedar.com and are available at the Centerra Gold web site at: www.centerragold.com.
Payments to the Kyrgyz National Budget and Mandatory Contributions
During the first nine months of 2012, contributions to the national budget in taxes, deductions to the Social Fund and other mandatory payments have totaled $92.2 million. According to the official National Bank exchange rate as of September 30, 2012, this is more than 4.3 billion soms. (See Table #2)
Quarterly Dividend
As disclosed by Centerra Gold. Inc. (see News Release dated November 7, 2012), its Board of Directors has authorized a dividend of Cdn$0.04 per common share (approximately US$9.5 million at the current exchange rate). The dividend of Cdn$0.04 per common share is payable on December 6, 2012 to shareholders of record on November 22, 2012. The dividend is an eligible dividend for Canadian income tax purposes.
Extension of the Life-of-Mine
On November 7, 2012, Centerra Gold Inc. announced the results of its technical and financial study regarding expanding the Central open pit at the Kumtor mine, including:
• Extended mine life by 5 years, life-of-mine plan (LOM) for the open pit extends open pit mining to 2023 and milling operations to 2026;
• Optimized LOM open pit plan while maintaining future underground development option;
• Consistent annual gold production averaging 650,000 ounces for the first 10 years;
• LOM expansion capital of $169 million and $557 million of sustaining capital, excluding pre-strip capital;
• With the revised LOM plan, most of the underground development of Decline 1 and 2 is expected to be encompassed by the expanded open pit. Further work on the development of the underground inferred resources will be dependent on further exploration drilling and detailed studies. Any underground development would likely only start once mining of the SB Zone in the open pit is completed in 2018.
Outlook for 2012
The Kumtor mine is expected to produce 350,000 to 360,000 ounces of gold in 2012 or 10.9 to 11.2 tonnes. The production guidance has been revised from the previous guidance of 390,000 to 410,000 ounces due to the fact that the mine encountered an irregular till/bedrock contact while transitioning between waste and ore. This irregularity resulted in greater than expected amounts of till waste material and ice and less than expected amounts of ore at the till/bedrock contact in the top benches for the southwest section of the SB Zone. By the end of October, Kumtor had mined through the till/ore interface and is now mining in the ordinary course. The Company does not expect to have a similar issue going forward.
At Kumtor, 2012 total capital expenditures are forecast to be $379 million including $41 million of sustaining capital and $338 million of growth capital investment. The Company decreased its capital spending on the underground development project by $21 million and has increased the capital spending allocated for purchase of new mining equipment by the same amount to increase mining capacity for the next year.
Commentary
Michael Fischer, President of Kumtor Operating Company, stated, "The Company continues to remove ice and waste from the high movement unload zone in the southeast section of the pit wall to gain access to the higher grade ore in the SB Zone. Also, we have successfully accessed the southwest portion of the pit in due time and provided the mill with ore. The irregularity we encountered, however, has made us revise our previous guidance. But this problem has been solved and achieving the targeted production is dependent now on the continued operation of the Kumtor mine.

Meanwhile, the results of the technical and financial study carried out at the deposit have made it possible to increase the Kumtor mine reserves and extend the life-of-mine by 5 years – a fact, which is expected to provide significant tax revenue to the Kyrgyz Republic of approximately $1.5 billion in the next 10 years, based on a high gold price".
Table 1
Basic Operating and Financial Results
Third quarter ended September 30
Nine month ended September 30
2012
2011
Change (%)
2012
2011
Change (%)
Gold produced – ounces
23,786
141,217
(83%)
125,799
444,460
(72%)
Gold produced – kg
739.8
4,392
(83%)
3,912.8
13,824
(72%)
Gold sold – ounces
26,626
146,765
(82%)
129,051
457,597
(72%)
Gold sold – kg
828.2
4,565
(82%)
4,013.9
14,233
(72%)
Average realized gold price – $/oz
1,651
1,705
(3%)
1,671
1,533
9%
Revenue from gold sales to Kyrgyzaltyn – $ millions
44.0
250.3
(82%)
215.7
701.4
(69%)
Total production cost (with depletion and amortization ) – $millions
63.3
119.3
(47%)
177.1
280.1
(37%)
Revenue-based tax + Issyk-Kul Development Fund– $millions
7.8
32.7
(76%)
71.5
105.4
(32%)
Capital expenditures – $millions
78.1
34.4
127%
313.1
152.3
106%
Exploration expenditures – $millions
3.5
3.5
0
8.6
10.7
(20%)
Tonnes mined – 000s
35,943
38,702
(7%)
109,425
113,480
(4%)
Tonnes ore mined – 000s
399
2,889
(86%)
478
4,925
(90%)
Tonnes milled – 000s
2.25
3.05
(26%)
2.09
3.43
(39%)
Average mill head grade – g/t
581
1,429
(59%)
3,209
4,365
(26%)
Recovery – %
1.78
4.01
(56%)
1.66
3.79
(56%)
Gold produced – ounces
75.1
80.2
(6%)
72.6
81.8
(11%)

Table 2
Kumtor Gold Project's Contributions in Taxes and Mandatory Payments
| As of September 30, 2012 | USD thousands |
| --- | --- |
| Gross Proceeds Tax (13%) | 68,373.4 |
| Issyk-Kul Contribution (1%) | 3,105.6 |
| Environmental Pollution Charge for 2012 | 310.0 |
| Employee Income Tax | 3,839.4 |
| Contributions to the KR Social Fund (employer and employee) | 15,299.4 |
| Customs Administration Fee | 866.4 |
| Withholding Tax on non-residents | 310.3 |
| Other taxes and mandatory payments | 60.4 |
| Total | 92,164.9 |
| US$ official exchange rate to the Kyrgyz Soms as of September 30, 2012 | 47.1484 |
| Equivalent of payments effected in million Kyrgyz Soms | 4,345.4 |
Note: Under the Agreement on New Terms of April 24, 2009, the revenue-based tax and contributions to the Issyk-Kul Development Fund are estimated based on actual cash revenues from sales during the specified period.
* * *
The Kumtor open pit mine, located in the Kyrgyz Republic, is the largest gold mine in Central Asia operated by a Western-based producer. It has been operating since May 1997 and, as of September 30, 2012, has produced approximately 8.5 million ounces or about 264 tonnes of gold.
Kumtor Operating Company is the operator of the Kumtor project responsible for the entire production cycle.
Centerra Gold Inc. is a gold mining company focused on operating, developing, exploring and acquiring gold properties primarily in Asia, the former Soviet Union and other emerging markets worldwide. Centerra is a leading North American-based gold producer and is the largest Western-based gold producer in Central Asia. Centerra's shares trade on the Toronto Stock Exchange (TSX) under the symbol CG. The Company is headquartered in Toronto, Canada.
The Kyrgyz Republic, via Kyrgyzaltyn JSC, is Centerra's largest shareholder owning 77,401,766 shares (about 33%). As of September 28, 2012, Kyrgyzstan's interests were estimated at $915 million.