The Sixth International Freestyle Wrestling Tournament for boys aged 9 to 15 was held on March 31 and April 1, 2018, in the city of Balykchy. The Tournament was organized by the Future of Issyk-Kul Public Fund and Juvenile Sports School in Balykchy. Kumtor Gold Company (KGC) contributed 110,000 soms for purchasing certificate blanks, medals and prizes.
567 athletes from all over Kyrgyzstan as well as boys from Tajikistan and Kazakhstan took part in the tournament.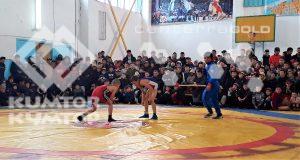 Also, the event was attended by four Distinguished Coaches of the Kyrgyz Republic, including Saadan Niyazov, Melis Apylov, Mirbek Akiyev and Bolot Ibrayev.
"The promotion of sport is of immense importance for us, and we are happy to see Kumtor among the permanent partners of our annual Tournament. We are happy to see this fruitful cooperation turning into a good tradition," said Mirbek Mambetov, the head of the Future of Issyk-Kul Public Fund.
Competition was held in accordance with the Regulations of the Wrestling International Federation.
There were 15 weight groups. Winners in each group were awarded medals, certificates, tracksuits, etc.
The winner team was one from Balykchy followed by Bishkek wrestlers. Third were boys from Issyk-Ata and fourth were Osh sportsmen.