On the eve of the New Year holidays, Kumtor Gold Company presented 2,604 gifts to children of Jeti-Oguz and Ton districts, as well as the cities of Balykchy and Karakol in Issyk-Kul oblast. Children from low-income families, as well as those from orphanages and rehabilitation centers for children with special needs received traditional New Year's gifts.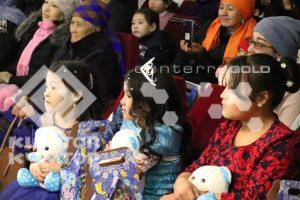 "Perhaps the most enjoyable part of our work is to see the smiles of children. We are proud that the company, in addition to its contribution to the national economy, is actively working on the sustainable development of Issyk-Kul oblast and is actively involved in charity activities," KGC Regional Sustainable Development Officer Aigerim Baitikova said.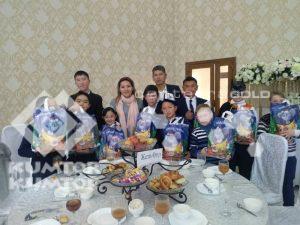 New Year's gifts were distributed during the New Year celebrations in cultural centers and schools. Sweets were delivered to children with the help of local self-governments, which had provided lists of children and organized New Year's matinees all over the region.
And during the main New Year's party of Issyk-Kul Oblast, held in Karakol, Government's Authorized Representative in Issyk-Kul Oblast Akylbek Osmonaliev extended season's wishes to children, saying: "Today we are having a wonderful event here. 250 children are attending it, we tried to make them happy and cheer them up, we staged a theatrical performance for them. The similar events are taking place in parallel, throughout the region, where mayors and akims are wishing a happy New Year to almost 1,000 children. In addition to Jeti-Oguz, Ton districts and Balykchy, Kumtor Gold Company had handed over 700 gifts that we gave away to children in Karakol. In my opinion, this annual traditional holiday is our sacred duty and responsibility to children. Children are our future, we must provide them a positive role model. At this holiday event, children are accompanied by their parents or relatives, and not only children, but also adults have a holiday mood. I wish a happy New Year to all residents of Issyk-Kul oblast, I wish every family success, prosperity, health and love."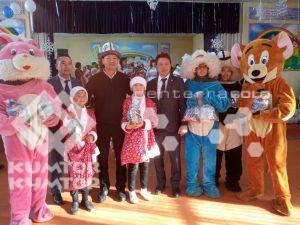 This year, Kumtor Gold Company has purchased and handed over to the provinces 2,604 New Year's gifts for a total amount of KGS 990,926.16, which have been distributed as follows: Balykchy – 712 gifts, Ton district – 482 gifts, Jeti-Oguz district – 710 gifts and Karakol – 700 gifts.
Rano Niyazkulova, one of the parents who came to the holiday party, shared her impressions: "We thank Kumtor Gold Company and the governor for the invitation to this event. Our father is a veteran, and my child has disabilities. Thanks again for the invitation. Everything is going fine, my son is happy. May the New Year be good, may it bring wellbeing and prosperity. My best wishes for a happy New Year!"