Futsal fields, built with the financial support of Kumtor Gold Company (KGC), were officially inaugurated in the villages of Saruu and Tosor, Jety-Oguz district, on September 15-16, 2018.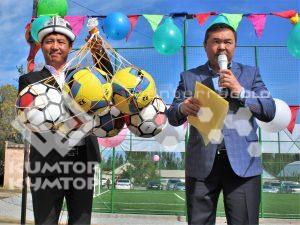 The Saruu field was built at the initiative of KGC employees who had raised approximately 570,000 soms for the purpose of that project. Additionally, 1,499,000 soms was contributed by KGC itself. Also, the Issyk-Kul Development Fund (IKDF) assigned 800,000 soms for purchasing artificial turf. As part of the ceremony, the district's youth organizations held a friendly match while KGC representatives presented a set of balls to be used in future matches.
The Tosor project became possible due to KGC's contribution in the amount of 2,111,000 soms, IKDF's contribution in the amount of 800,000 soms used to purchase artificial turf and donations of Tosor Koomu Public Association in the amount of 150,000 soms used to build showers and a locker room. Also, 100,000 soms was contributed by the village administration to improve the adjacent area.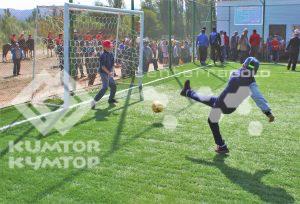 "All the residents are in a good mood today because the project contemplated two years ago is over today. It should be noted that contribution to the project was made by KGC's Saruu-born employees, KGC, the Issyk-Kul Development Fund and local administration. The Company is ever prepared to support any initiative promoting youth projects in its target area," said Bolotbek Idirisov, KGC's General Manager.
Responding to requests of local administrations and youth organizations, the Company has entered into annual commitments to support futsal field projects in Ton and Jety-Oguz districts since 2013. The first futsal field was built in the city of Balykchi in 2013. Between 2013 and September 2018, KGC supported, wholly or partially, seven such projects. Sportsmen have been offered an opportunity to train in Balykchi as well as in the villages of Orgochor, Tilekmat, Tosor and Saruu in Jety-Oguz district and also in the villages of Tort-Kul and Kaji-Sai, Ton district. KGC's contributions for these projects in Issyk-Kul province have totaled an estimated 17 million soms.