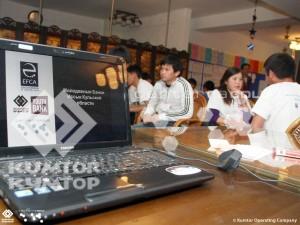 A training session organized for young activists of Youth Banks on the southern shore of Lake Issyk-Kul is over. Youth Banks is a 2-year project implemented by Eurasia Fund-Central Asia with the financial support of Kumtor Company.
The instructor was Vernon Ringland, an author of the Youth Banks conception. For five days, the young people were taught to prioritize business activities and make sound decisions. Having undergone the full course of training they will come back to their home communities to establish a sort of expert boards that will consider project requests and distribute small grants, $2,000 at most each.
There are now more than forty Issyk-Kul residents, aged 14-28, who are ready to work in the system of Youth Banks to be founded in six cities and villages of Issyk-Kul province, including the cities of Karakol and Balykchi, and villages of Bokonbayevo, Tamga, Tiup and Kyzyl-Suu.