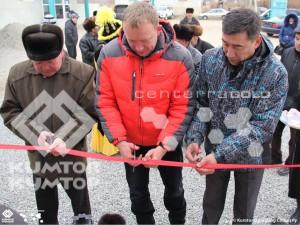 One of three digital dial exchanges was officially commissioned at Barskoon, Jety Oguz district, Issyk-Kul province, on December 19, 2012. The dial exchanges were arranged by Kyrgyztelecom JSC at Barskoon, Tamga and Tosor. The purchase of the updated equipment for the communities was sponsored by Kumtor. Attending the inauguration ceremony were representatives of the public, Kyrgyztelecom JSC, Kumtor employees and journalists.
From now on, the three communities will be provided not only with more advanced telephone services but also with access to the Internet and digital television benefits. During the ceremony, Kyrgyztelecom employees gave prizes and congratulated their first subscribers who got connection to the Internet and Zor TV.
"Kumtor has invariably supported initiatives benefitting the province. Our joint project with Kyrgyztelecom has provided three communities not merely with a link to the outside world but also with an up-to-date level of communication. We are happy about such cooperation and hope that all the telecommunication advantages will soon be appreciated by the general public throughout the region," – said Michael Fischer, President of Kumtor Operating Company.