Members of KGC's Charity and Sponsorship Committee decided to meet the request of the Balykchi-based LOVZ Tendik Public Foundation. The said NGO takes care of physically challenged people as well as families with many children among whom some are special needs children.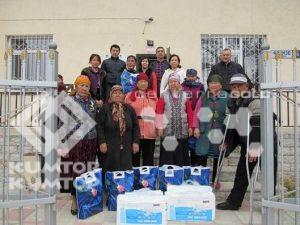 On May 4, 2018, employees of KGC's Balykchy Marshalling Yard and representatives of KGC's Sustainable Development Department handed over sets of foods and health and beauty aids to the NGO's employees.
The Chairman of the LOVZ Tendik Foundation, Ulan Januzakov, sincerely thanked Kumtor Gold Company's employees for their kindness and support. "It is extremely important for physically challenged people to feel they are really taken care of. These gifts remind them they are not left solely to their own devices in this world. We see Kumtor Company as a reliable partner which is always willing to support us. From the bottom of our hearts, we wish Kumtor employees good health and wellbeing," Ulan Januzakov said.