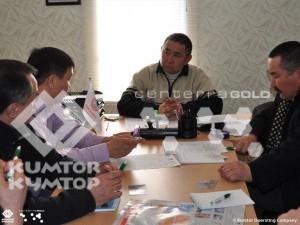 On March 29, 2012, the Regional Cooperation Committee held a meeting at Kyzyl- Suu village of Jety-Oguz district. Committee members reviewed activities in 2011 and discussed plans for 2012.
In 2012, Kumtor Operating Company increased a loan portfolio of microcredit agency "Jety-Oguz" at 23 million soms. The decision to expand microfinance service coverage area, provided by MCA "Jety-Oguz", was also announced at the meeting. Now, all residents of the district have an opportunity to get an access to finance.
During the meeting, representatives of the MCA "Jeti-Oguz" reported on the financial performance in 2011 and presented projects to be funded in 2012. The subject of discussion was the issue of credit plans and mechanisms to ensure transparency of the agency.
March 29 in the village of Kyzyl-Suu Jeti-Oguz district held a meeting of the Regional Committee for Cooperation. Committee members reviewed the work in the past year and discuss plans for 2012.
Jety-Oguz district regional cooperation committee is composed of the district mayor, deputies of Regional Kenesh, representatives of civil society, NGOs and Kumtor Operating Company.