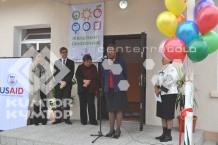 On October 19, 2011, a rehabilitated primary school was officially opened in the village of Krasnaya Rechka, Chu province. This primary school is part of a special boarding school created for handicapped and uncared for children.

Attending the official ceremony were Ambassador Extraordinary and Plenipotentiary of the United States in the Kyrgyz Republic Pamela Spratlen, representatives of Hayatt Regency Bishkek, President of Kumtor Operating Company Robert Wunder and senior officials of the Issyk-Ata administration.
Kumtor Operating Company contributed US $10,000 in support of the Krasnaya Rechka orphanage in January 2011 at a charity event organized by Hayatt Regency Bishkek. During the event a total of US $40,000 was raised, which was used to repair the roof and purchase essential goods for the orphanage primary school. The U.S. Government, for its part, has assigned US $156,000 as a grant through USAID's Office of Transition Initiatives (OTI) for purposes of total renovation of the primary school. As a result, major repairs were made, including walls, ceilings, floor, windows and doors. In addition, heating and electric systems were provided for the school while classrooms were equipped with new furniture, including desks, chairs and shelves as well as sofas for common rooms. Also, three large pavilions were built in the nearby garden for outdoor actions after classes.
The primary school building at Krasnaya Rechka was built in the 1950s and had needed putting in major repair for a long time. After renovation, the building has become safe and comfortable for a total of 130 children living in the orphanage at Krasnaya rechka.
Speaking at the opening ceremony, Ambassador Pamela Spratlen said the rehabilitation project at Krasnaya Rechka was a good example of successful partnership between the private and public sectors, domestic and foreign partners in the interests of improving living conditions for children. "I would like to thank all the parties involved in this project for cooperation and wish the orphanage children and staff all the best in the future," she said.