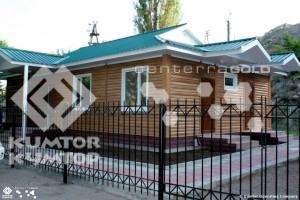 A new training session will be organized for Jety-Oguz and Ton community members by the Barskoon-based KOC Regional Information Center on 29 March, 2012. The coming seminar will focus on two topics: "Agrochemical soil analysis" and "Value Added Product Chain Formation".
The training will be conducted by the Director of the Issyk-Kul Center of Marketing Services Association, Askarbek Sulaimanov.
Among other things, the seminar participants will learn the soil sampling and fertilization techniques.
The second half of the seminar will be given to marketing matters relating to farming. The participants will learn more about the formation of the value added product chain and proper methods for increasing the cost of products supplied for sale. For illustration, instances of Issyk-Kul companies will be provided showing the way they use the value added chain in their practice.
This will be one of the training sessions to be sponsored by the Business Advisory Service (BAS) in the first six months of 2012. Under this program, various experts will train local residents in handicraft and farming innovations. The training seminars are conducted by the European Bank for Reconstruction and Development in cooperation with Kumtor Operating Company and are designed to improve the economic potential of the region and launch sustainable development projects.
Detailed information about the seminars and registration procedures can be obtained from the officers of the KOC Regional Information Center. Participation in the EBRD seminars and all kinds of services offered by the Center to the communities will be free of charge.