Kumtor Gold Company funded the children's playground and youth recreation project to be implemented in Orgochor, Jeti-Oguz district. The facility will also be available for children from the adjacent villages. The project was implemented under the KGC program providing financial assistance to local initiatives.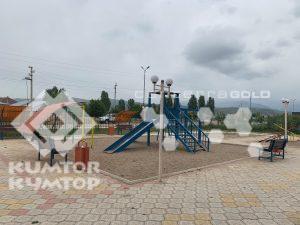 The project was implemented in partnership with the local aiyl okmotu and the Issyk-Kul Development Fund. In 2019, Kumtor Gold Company contributed KGS 982,460 for construction works. The Issyk-Kul Development Fund provided building materials worth KGS 561,800 for the playground construction. The Fund is formed by contributions of Kumtor Gold Company, which donates 1% of its annual gross income. The contribution of the local government, about KGS 500,000, was spent on the site preparation (soil compaction, laying cobblestone, etc.). At the moment, the children's playground is ready and waiting for opening.
The population of Orgochor is 2,729, including 710 children aged under 14. The playground is designed for about 30 children and available for all kids from the adjacent villages, like Boz-Beshik and Svetlaya Polyana. Table tennis can be played under the awning. The playground will be open until 08:00 PM in the summertime and until 04:00 PM in the wintertime. The facility was placed on the balance sheet of aiyl okmotu, and 1 full-time employee, a watchman, was hired.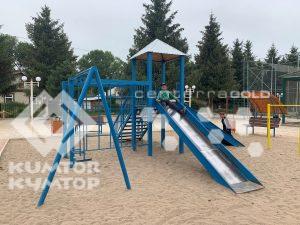 Support of social projects and investment in life quality improvement in the region, where Kumtor Gold Company's production facilities are located, have always been and remain a top priority of the company's charitable activities.