On April 28, 2018, employees of the Kumtor mine and Bishkek office of Kumtor Gold Company once again helped the Senior Center 'Salamat' located in Kara-Balta, Jaiyl region, Chui oblast. Kumtor employees purchased building materials and, by their own efforts, made repairs in one of the largest wards of the nursing home.
Upon the completion of repairs, KGC employees together with the volunteers of the Red Crescent Society of Kyrgyzstan planted seedlings of the 'royal peach' and apple trees in the senior center's yard. According to the senior center's deputy chief Irina Likhachyova, the fruit garden will be not only a perfect rest area for the elderly, but also a helping hand for the center. "Now we are buying fruit and vegetables at the market, but if we have our own harvest, it will be a great help to us. We will be making homemade canned food and dried fruits for the winter. In the future, we are planning to build an arbor next to the fruit garden and lay alleys in it," she said.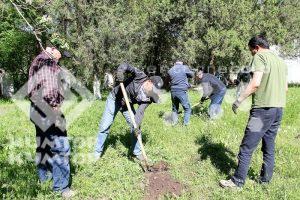 The event has coincided with the Labor Day, which is annually celebrated in Kyrgyzstan on May 1. KGC employees handed over food gift baskets to all inhabitants of the senior center.
According to KGC Chief Power Engineer Aziret Abdykerimov, this initiative is a continuation of the previous charity event, when the volunteers made repairs in the corridors of the senior center. "The elderly age is one of the most difficult periods of life. Elderly people face numerous physical and psychological problems. It becomes difficult for them to take care of themselves; they need all-round support and care. Therefore, we try to hold such events on a regular basis," he said.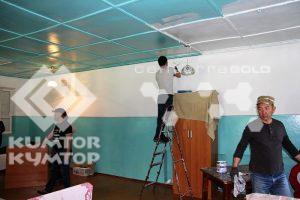 The senior center 'Salamat' has been operating in Kara-Balta since 1992. It is designed for 65 people. At the moment, the social institution is home to 33 senior citizens.
On the same day, KGC employees also visited the orphanage in Kara-Balta. The orphan asylum gives shelter to 27 children, aged 6 to 18, who faced different difficult situations in their lives. "Six of our foster-children are orphans; the others came from vulnerable families. We solve their problems by providing them social protection and educational support. We make sure that they go to school," the orphanage Chief Irina Radchenko said.
Kumtor volunteers handed over books, toys, drawing-books and stationery to the children. As noted by KGC General Manager Bolot Idirisov, the company employees together with the orphanage administration will think over the further assistance to the orphan asylum.
The corporate volunteering program, also known as 'Kumtor Ambassadors' brings together employees of all KGC departments, who actively participate in charity events and support many social institutions of the country on a regular basis.