On August 25, representatives of Kumtor Gold Company (KGC) handed over equipment and uniforms to the Children's and Youth Sports School (CYSS) of the Jety-Oguz district of the Issyk-Kul region.
This event was an unexpected gift for young athletes on the eve of the new academic year. The list of necessary things was made by the kids' coaches: wrestling suits, soccer boots, soccer balls and much more.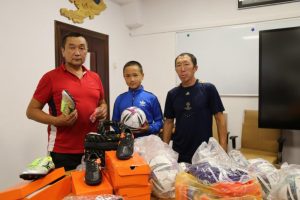 Kumtor traditionally helps children's sports institutions of the country, understanding what importance the younger generation has for the future of the country.
The Children's and Youth Sports School of the Jety-Oguz district is one of the strongest in Kyrgyzstan. Its students regularly win international and national competitions. The school has 380 students, 26 coaches, they conduct training classes in 16 sports.
"We had a big problem with the uniform for wrestlers. Now it has been resolved. We are very grateful to the Kumtor management and all its employees for such a great gift and high-quality sports equipment. By attracting as many children and teenagers as possible to sports clubs, we direct their vital energy in a peaceful direction, and we hope that the desire for professional sports success will lead them to the career of future Olympic champions", said Sagynbek Jumaev, Head of the Sports Committee of the Jety – Oguz district of the Issyk-Kul region.
_____________________________________
Kumtor Gold Company CJSC (KGC) adheres to the philosophy of openness and transparency in its work. The KGC activities are exclusively subject to and governed by the laws of the Kyrgyz Republic.