Konkino village of Jeti-Oguz region of Issyk-Kul oblast got access to drinking water.

The water supply project was supported by Kumtor Gold Company, the Issyk-Kul Region Development Fund, local authorities and residents of the village. Kumtor Gold Company became the major sponsor of the project, having allocated about KGS 5,498,000 for its implementation.
As part of the project, the contracting company 'Issyk-Kul Kurulush' carried out well-drilling and well-equipping works, constructed the road from the facility to the village, built the bridge, fenced the facility, installed a transformer, installed light illumination and carried out construction works, which have lasted for about 8 months. The contribution of local authorities amounted to KGS 200,000. Local residents have managed to raise KGS 350,000. The Issyk-Kul Region Development Fund also made its contribution to the project implementation, having allocated KGS 2 million.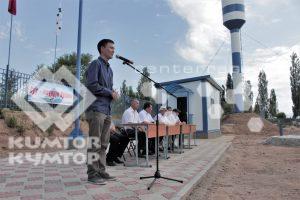 The project provided access to drinking water to all households and about 700 villagers. Earlier, in 2017, the company supported a similar project in Barskoon village, having provided access to drinking water for 10,000 people.
"The problem of drinking water was particularly acute in our village. The local budget did not have funds for such large-scale works, however, thanks to Kumtor and local residents, we have finally managed to live out our dream. We are grateful to the company for all the support provided throughout the entire process of works," member of village deputies council Turganbek Sheripov said.