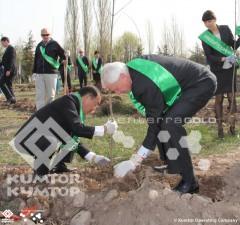 Four hundred ash trees were planted today in the Bishkek Ata-Turk Park on the territory of half a hectare by the Green Foundation members and the International Public Foundation "Roza Otunbaeva Initiative".
The non-profit organization "Green Foundation" was initiated in 2012 by Kyrgyz Investment and Credit Bank (KICB), supported by the Aga Khan Development Network as well as the Public Broadcasting Corporation of the Kyrgyz Republic and the City Hall of Bishkek. This year the trees planting was joined not only by Kumtor Company, but also by the Foundation "Initiative of Roza Otunbaeva" and University of Central Asia.
"Protecting environment is an integral part of KICB's corporate philosophy, – commented Mr. Kwang-Young Choi, CEO of Kyrgyz Investment and Credit Bank. – The main purpose of the Green Foundation is to help preserve gardens of the Kyrgyz Republic by our own efforts as well as attract the attention of young people to the necessity of protecting the important natural asset".
"Kumtor has always been a strong supporter of environmental protection and actively collaborates with environmental organizations. The initiative of the Green Foundation is consistent with Kumtor's environmental projects and common goals, such as Kumtor's program to support biodiversity in the Issyk-Kul region. Today's tree planting is a real step towards improvement of the environment within the capital city of Kyrgyzstan", said Michael Fischer, President of Kumtor Company.
Additional information about Green Foundation is available here: http://kicb.net/about/csr_ru/2012-year/g-foundation