On April 25, 2018, medical staff of the Proctology Department of the National Hospital received surgical instruments and an air conditioner as a gift from Kumtor Ambassadors. Company employees from different units of the Kumtor Mine and 'Uchkun' Office in Bishkek have raised money during three weeks and helped this medical institution.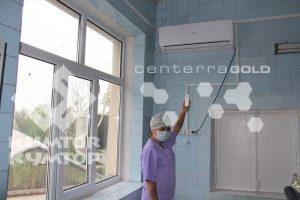 Earlier, the Company had received a letter from the managers of the National Hospital's Proctology Department with a request to assist in the purchase and installation of an air conditioner for the operating room. Kumtor Ambassadors decided to support this appeal for assistance by their own efforts. Using raised funds, they have purchased and installed the air conditioning unit in the operating room, as well as purchased 27 units of surgical instruments.
"We perform 8-10 operations a day; sometimes we operate up to 20 patients. We will be using these surgical scissors and needle holders for more than a year. Now we will operate our patients in comfortable temperature conditions, using new instruments. Our team is very grateful for your help and wishes you all good health," Chief of the Proctology Department Yzakjan Bektenov noted.