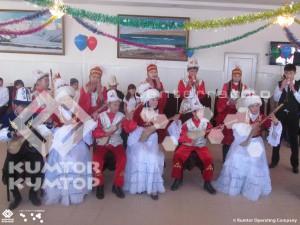 A holiday concert called "Kumtor: Dreams Coming True" has been organized at Balykchi by the public association "Generation NEXT" in collaboration with the City Hall. It was sponsored by Kumtor Company. Among the guests of honor attending the event were the Balykchi Vice Mayor as well as the speaker and members of the local kenesh.
The 90-minute concert for the Balykchi indigent groups and young people was prepared by the young people themselves. The concert participants, students and schoolchildren, displayed their dancing and singing talents, skills in playing musical instruments while the local team of the Club of Funny and Inventive gladdened the young audience with nimble jests and excellent acting. Following the concert, various gifts and a festive board awaited the children.
"Our Company tries to support social events organized by the Issyk-Kul young people. We are tied with the Balykchi youth association, Generation NEXT, by an old friendship. On the New Year eve, we have a happy chance to support this stimulating event, give kids the gifts and create festive mood for them," said Douglas Grier, Director, Sustainable Development, Kumtor Ooperating Company.